Gambling restrictions are slowly loosening for land-based casinos in the U.S., while most online gambling operators struggle to get a foothold in the U.S. market. While land-based gambling is expanding beyond Vegas and Atlantic City to include Indian reservations and a few brave states, most online casinos reside offshore in order to provide their services to U.S. residents.
Fierce Competition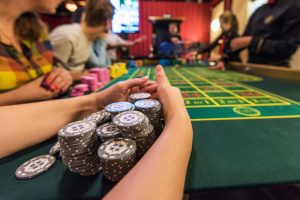 Competition is built into the casino industry by default. Since the early days of the desert saloon to the modern megaresort casinos, each new casino to eke out its existence had to be bigger, bolder, and braver to get attention. Your casino's got 3,000 slots? Our new one has 4,000. Yours cost $2 billion? Chump change; our new one cost $4 billion.
And the battle raged on in Vegas and Atlantic City, spreading across the globe to Macau and beyond. Gambling has always grown where it is allowed to flourish, and strict anti-gambling laws have ensured that only a few states and Indian reservations have seen the lion's share of gambling revenue.
Until now. In the past few decades, online casinos have popped up in every corner of cyberspace, and while only a few U.S. states allow U.S.-based online casino companies to exist, many offshore cyber-casinos do a brisk trade in the U.S.
A Piece of the Action
Gambling on a global scale is major industry, sung to the tune of over $500 billion. Gambling restrictions have loosened in states in recent years, driven by simple economics. The same micro economies which have transformed reservations into tribal gaming empires is appealing to states badly needing an economic boost. But many new casino opportunities are still held in limbo by squeamish citizens who fear the 'casino effect' happening in their backyard.
Undaunted by state lines (or moral superstition), technology has supercharged the growth of the online casino industry as well. However, many offshore online casinos still hesitate to offer their services to U.S. citizens. Fortunately for gamblers living in states unfriendly to gambling, they can easily find lists of trusted online casinos which are friendly to U.S. customers. After all, if people want something, no amount of prohibition will stop the progress of profit.
Brick-and-mortar Backlash
In addition to fear-based scenarios like new Pennsylvania casinos encroaching on Amish lands, the old blue-blooded casino moguls of Vegas and Atlantic City yore are fighting back against online casinos as well. Online gambling businesses face strong opposition by the usual billionaires who fear other fingers in their pies.
New land-based casinos open their doors every month, most recently the Encore Boston Harbor in New England. Whenever the traditional gambling meccas like Vegas and AC feel the sting of profit loss, they simply open a new megaresort in a new location to balance the books.
One of the biggest voices of opposition against the legalization of online gambling is billionaire casino mogul Sheldon Adelson (owning Sands properties from Vegas to Macau to Singapore). Adelson runs a campaign against online gambling, citing concerns over the easy access to online casinos. He claims that anyone will be able to access online casinos, including underage gamblers and gambling addicts.
While casinos moguls claim to be the friend of the gambling addict, very few of them provide real help to real gambling addicts, relying on 'self-exclusion' methods for addicts. Similar to the Just Say No anti-drug campaign of the 80s, self-exclusion only works when a person knows they have a problem, takes steps to resolve the issue, and voluntarily fills out forms at land-based casinos to ban them if they try to enter the premises. Reputable online casinos also post help links for addicts, and their casino registration is rigorous enough to screen underage gamblers.
While the legal debate over gambling—on or offline—rages on, it seems clear that all evidence points to global gambling marching on without limits. The only thing remaining in the mind of the gambler is how far they want to go to gamble; travel to a land-based casino, or that short stroll to their PC or smartphone for an online gaming fix.
Disclaimer: All images are copyright to their respective owners and are used by USA Online Casino for informational purposes only.