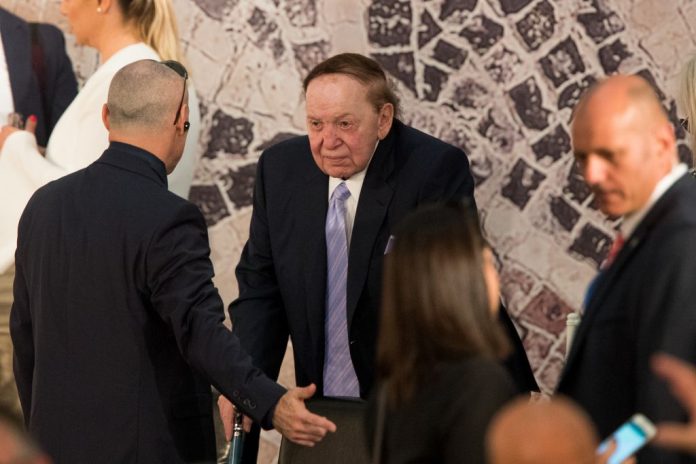 Sheldon Adelson (CEO Las Vegas Sands), the Jewish-American casino mogul who also owns the Israeli newspaper Israel Hayom, has cut off communication with Israeli PM Benjamin Netanyahu. Adelson was upset over Netanyahu's involvement with a competing newspaper, one which would damage Adelson's newspaper.

Deteriorating Relationship
Sheldon Adelson's free daily newspaper Israel Hayom has always favored Netanyahu and portrayed him in a positive light—even amid recent controversy. However, leaked news of Netanyahu's deal with competing newspaper Yedioth Ahronoth has angered Sheldon Adelson.
Netanyahu allegedly brokered a deal with Yedioth Ahronoth publisher Arnon Mozes regarding the possibility of reducing the circulation of Israel Hayom. This deliberate attempt to hobble Adelson's newspaper comes as a slap in the face to the billionaire casino mogul. Netanyahu allegedly promised Mozes that he would pass legislation that would weaken and undermine Israel Hayom—in exchange for positive coverage by Yedioth Ahronoth.
The so-called Israel Hayom Law would require all Israeli newspapers to charge an arbitrary minimum price, which would in effect cripple Adelson's free daily paper.
"I will never meet [Netanyahu] again because of what I read," Adelson told media sources.
Insult to Injury
The relationship between Netanyahu and Adelson was soured in an earlier incident involving rude comments from Netanyahu's wife, Sara, who tried to push Adelson into firing Amos Regev, the editor of Israel Hayom.
"She tossed around very rude comments about how [my wife] Miri might be having an affair with Amos," Adelson said. "It indeed was a very rude comment. I intended to get up and go at that instant — but Miri didn't want to."
During an investigation into Netanyahu's possible fraud and breach of trust in the Israel Hayom Law case, the PM denied that he had any intention of following through with Mozes.
Further indication of the rift between Netanyahu and Adelson lies in last year's inauguration ceremony of a medical school at Ariel University. Netanyahu did not attend the ceremony, which named the medical school after the Adelsons. Sources say it was because Netanyahu was not invited.
Analysis
In a region with more than its fair share of conflict, a gossipy feud between 2 powerful men might seem a bit trite. After all, Sheldon Adelson's personal wealth is estimated at nearly $40 billion, which would normally salve an awful lot of wounds.
Adelson's Las Vegas Sands (LVS) is one of the largest casino companies in the world, with holdings in Las Vegas, Macau, and Singapore. The 86-year-old multi-billionaire has built a ginormous casino empire almost from nothing. Originally operating in the computer trade show industry, Sheldon Adelson made his splash in the desert sands with his purchase of the Sands Hotel and Casino in 1988. The Sands was the legendary hangout of the Rat Pack; Frank Sinatra, Dean Martin, and Sammy Davis, Jr. After his purchase of the Sands, his casino empire grew exponentially.
It seems almost a force of nature that causes wealthy men to court powerful men. The right wing Adelson is a famous contributor to the Republican Party and a Trump supporter. His projects in Israel are connected with his Jewish roots, no doubt motivated by a personal responsibility to provide his support in the region.
Rubbing shoulders with Benjamin Netanyahu was a natural by-product of Adelson's investment in Israel. While Adelson's fortune will not be dented in any way by the moves against his newspaper, his pride in his pet project won't allow the insults to pass unanswered. Even so, $38 billion will buy an awful lot of therapy.
If Adelson did in fact snub Netanyahu by not inviting him to his medical school inauguration ceremony, that might be considered fair play. After all, Netanyahu's wife said Adelson's wife was messing around. And that's just well out of order, ma'am.
Yesterday was Sheldon Adelson's birthday, and we're sorry we didn't get him anything. But we're thinking about him, and wishing him all the peace and prosperity in the world.
Disclaimer: All images are copyright to their respective owners and are used by USA Online Casino for informational purposes only.