Tropical Storm Cristobal crashed the party in southeastern Louisiana over the weekend, spilling over into southern Mississippi. Flood waters trapped casino workers inside the Silver Slipper Casino in Bay St. Louis, Mississippi, forcing a rescue.

Hurricane Season
Tropical Storm Cristobal is the third storm of the 2020 hurricane season. The storm inundated the Gulf Coast with flood waters and spawned a tornado in Florida. New Orleans and southeastern Louisiana residents avoided catastrophe, but Bay St. Louis, MS, was not so lucky.
Evacuation warnings went out to all residents living outside of the levee protection system, and most people managed to weather the storm.
Hurricanes are frequent in the Gulf Coast region, but most of them do not make it past the tropical storm phase. Once they gather enough energy, they become full-fledged hurricanes, which can be devastating to cities and inhabitants. People rarely remember the names of tropical storms, but hurricanes like Hurricane Katrina are forever etched in our minds. New Orleans is still healing from the effects of the devastation 15 years later.
Casino Workers Rescued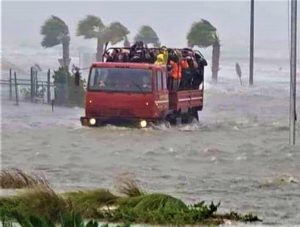 As Tropical Storm Cristobal made landfall Sunday evening, flood warnings went out. Unfortunately, flood waters moved faster than the staff of the Silver Slipper Casino, and they were trapped inside. The floodwaters prevented a casino shuttle from transporting workers to the employee parking lot, stranding them in the casino.
Hancock County dispatched first responders to the scene. Using a high-water vehicle, emergency workers made several trips through five feet of water to rescue nearly 100 casino workers. The entire evacuation took over four hours.
The Silver Slipper was the first casino to be built on land along the Mississippi Gulf Coast. The casino was built on terra firma in 2006 after Hurricane Katrina destroyed its floating predecessor, the President Casino Broadwater Resort in Biloxi.
After the barge was destroyed, the Mississippi Gaming Commission worked with the state legislature to change the laws regarding land-based casinos. Previously, casinos could only operate on riverboats or barges floating away from land. Now the law states that casinos may be built on land no less than 800 feet from the shore.
Nevada-based Full House Resorts bought the Silver Slipper in 2012 for $70 million. It features a 129-room hotel, five restaurants, a beach bar, and a gaming floor with 1,000 slots and 29 table games.
Disclaimer: All images are copyright of their respective owners and are used by USA Online Casino for informational purposes only.