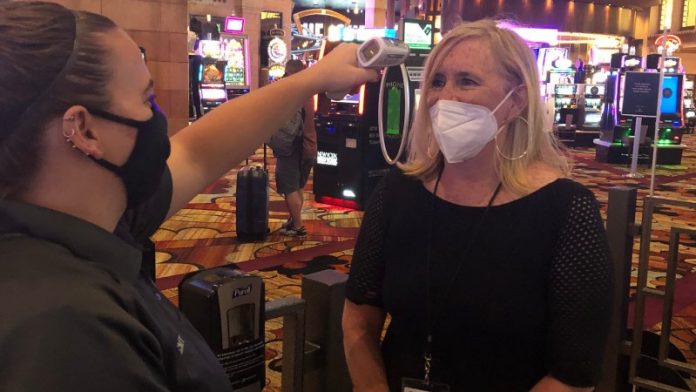 According to Atlantic City casino workers, five casinos in the city are not checking temperatures of guests entering the premises. The workers are now appealing to New Jersey government officials for a mandatory temperature screening at all casinos.

Caesars Fiddling
Members of the casino workers union Unite Here claimed that four casinos owned by Caesars Entertainment are not physically screening guests for fever and high temperature. As one of the symptoms of COVID-19, a fever or high temperature can be best detected by portable temperature scanners pointed at a person's forehead.
Caesars, Harrah's, Bally's, and the Tropicana are the four Caesars-owned casinos which are not currently taking temperatures at their properties. And the casino workers in these resorts are worried about it. They noted that the remaining four AC casinos have been taking temperatures, and they want Caesars to follow suit.
The appeal comes after several Atlantic City casino workers tested positive for the coronavirus. It has not been confirmed if the workers contracted the virus while working in the casinos or not. Still, the union wants stronger safety protocols – including physical temperature checks.
Safety Protocols Lacking
The four Caesars casinos claim to use a verbal screening process to question guests, but the union says they don't do it all the time. According to union secretary-treasurer Donna DeCaprio, the union has documented 180 instances of casinos failing to verbally screen guests.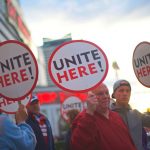 In addition to the lack of proper entry screenings, the union also documented 75 instances of hotel rooms not being thoroughly cleaned daily.
A bartender at Harrah's reported the holes in the safety plan. "We're not doing a good job even being partially open," said bartender Jason McKnight. "The rooms aren't being cleaned on a daily basis the way they are supposed to. This is a lot of people in an enclosed place, and we're not rising to the challenge."
Caesars regional president Steve Callender released a statement to the press refuting some of the union claims. "Caesars Entertainment's Atlantic City health and safety plan fully complies with all governmental directives," Callender said. "In addition to our enhanced cleaning protocols and other requirements that apply to our valued team members, all of our guests must pass a screening process before being allowed into our properties and must wear face masks in compliance with the governor's orders."
Disclaimer: All images are copyright of their respective owners and are used by USA Online Casino for informational purposes only.