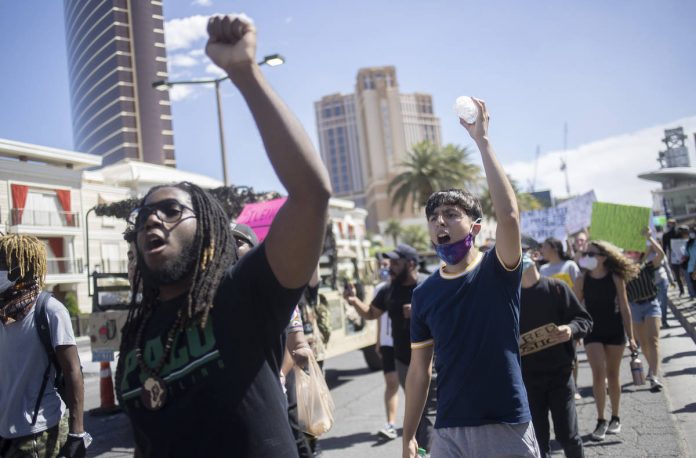 Demonstrators across America have been protesting the senseless killing of a black man in police custody, but casinos are still planning to reopen on Thursday. While some of the protests have turned violent, casino owners urge peaceful protests.

No Hospitality for Hatred
In light of recent Black Lives Matter protests in Vegas and beyond, acting CEO of MGM Resorts International, Bill Hornbuckle, issued a statement. He condemned racism and said that his company would use its "platform, scale and resources" to advance justice.
"We unequivocally reject racism, in any form," Hornbuckle said. "We strive to create inclusive environments in which all people feel celebrated and we believe passionately that diversity is the soul of creativity and the heart of entertainment. There is no hospitality for hatred here and we will not accept it anywhere else."
Following the killing of a black man in police custody, sparks of nationwide protests have ignited violence in some cities. Minneapolis police officer Derek Chauvin held unarmed suspect George Floyd on the ground with his knee on his neck for 8 minutes. Floyd died from asphyxiation from the incident, and he was handcuffed and helpless at the time. He was 46.
Protests around the nation were immediate and in some cases, violent. Looting, vandalism, and violence led to a curfew in some cities, followed by threats of military action by President Trump.
Heartbreak and Outrage
Police killing unarmed black men in custody is nothing new. The repeated acts of overzealous violence by white police officers resulting in the death of restrained black men has become a semi-regular occurrence. And since the cops involved rarely get more than a slap on the wrist, the black community is outraged.
Now, casinos nearly decimated by the coronavirus closures are planning to reopen. Witnessing the large number of protestors in the streets of Las Vegas, they hope to control the conversation and push for peaceful resolutions.
Most of the Las Vegas protests have been peaceful, but some cases of violence and vandalism broke out. The Nevada Resort Association issued a statement denouncing racism and violence.
"We recognize the pain, heartbreak and outrage that exist in the aftermath of this senseless tragedy and the urgency to create lasting and meaningful change that uplifts the African-American community and all communities of color and diverse populations," the statement read.
While Las Vegas struggles to keep the peace in the aftermath of a grave injustice, President Trump is taking the opposite approach, threatening protestors with military intervention. Nevada Governor Steve Sisolak accused Trump of "inciting combativeness, stoking racial tensions, and creating division when we need unity more than ever."
Considering America's long history of racism, social injustice, and violence, it remains to be seen just how long the government expects people to go on with 'business as usual' in America.
Disclaimer: All images are copyright of their respective owners and are used by USA Online Casino for informational purposes only.