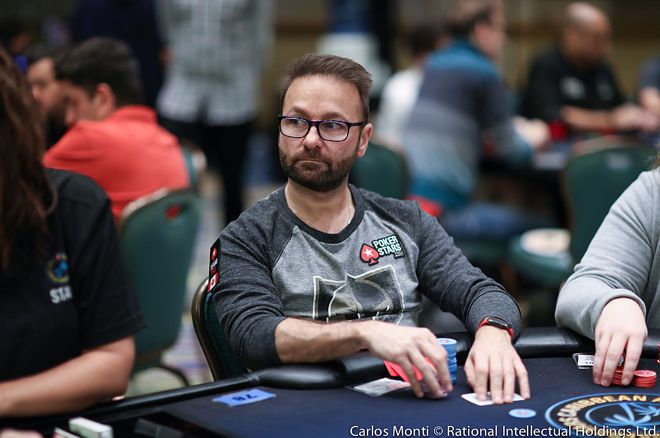 Daniel 'Kid Poker' Negreanu, one of the world's highest profile poker celebrities has announced his departure from his 12-year ambassadorship with PokerStars.

An "Amicable Split"
Negreanu will no longer represent PokerStars by sporting the red spade everywhere he goes. According to the Canadian poker player, he and the online poker provider came to an agreement on what he termed an "amicable split".
Since 2007, Negreanu had been PokerStars Team Pro's most visible member in a relationship that he called "an incredible run".
In turn, the company's associate director Rebecca McAdam Willets extended the company's goodl wishes. She acknowledged that the Kid Poker has been one of the influential faces of poker and as well as PokerStars for the last 12 years and thanked him for his passion, insights and support throughout their relationship. She also wished him all the best in his future endeavours.
Negreanu's Incredible Run with PokerStars
Initially, Negreanu had his own poker site, Full Contact Poker, in which he played a major role in building and funding. However, in June 2007, he reached an agreement with PokerStars to join other notable former World Series of Poker Main Event Champions Greg Raymer, Chris Moneymaker and Joe Hachem in the company's ambassador team. Also, his poker site was migrated into PokerStars and reverted to simply being a host to his blog, podcasts, forums and other media.
Negreanu became PokerStars' regular face on their international events such as the European Poker Tour. While he never won a prestigious European Poker Tour title, he did make it to the final table several times. For instance, at the 2013 EPT Grand Final, he finished fourth winning €321,000. He also cashed in several $100K events such as at the PCA.
While other early 2000s' stars such as Barry Greenstein and Hachem faded from the spotlight and had their sponsorships ran out, Negreanu's flag continued to rise higher and he remained to be one of the game's brightest stars.
Negreanu was one time a poker all-time tournament money leader before he was surpassed by Justin Bonomo. But his profile has evolved positively to continue to succeed against the new generation of poker stars.
Negreanu's Recent Troubles
In recent years, Negreanu has been on the receiving end of criticism after he and PokerStars made stances that proved unpopular with some sections of the poker community. For instance, when PokerStars cut high-volume rewards as well as hiked the rake across several games in what was considered controversial moves; Negreanu defended the changes to the disappointment of countless pros who hoped he would fight otherwise.
Also, some of his posted opinions didn't sit well with people such as the popular "The Chip Race" podcast hosts Dara O'Kearney and DK Lappin, who one time was involved in a back-and-fourth spat with Negreanu. The spat became nasty and so was his heated exchange with Shaun Deep back in early May which resulted in insults and discussions of a bizarre bet on who between the two of them would stay married longer.
Future Hopes
Through the highs and the lows, Negreanu still remains to be one of the world's most popular poker players, if not the most. He hopes that his fans will start seeing him in a slightly different light and that the industry will understand his voiced opinions over the years didn't necessarily come from being paid by his sponsors. 
In a brief video that was released on twitter, the 44-year-old spoke of his fondness for PokerStars as well as for some of the people he worked with. He also referenced his recent marriage to his new wife and the baby making art as some of the primary reasons for his change of focus. 
Disclaimer: All images are copyright to their respective owners and are used by USA Online Casino for informational purposes only.