Eldorado Resorts closed a $17.3 billion acquisition deal to merge with Caesars Entertainment Corp. The deal will make Eldorado the largest casino company in the world by total gaming assets. The purchase deal agreed upon by both parties will involve $8.6 billion in cash and stock, plus assumption of Caesars' outstanding debt.

The Deal
The $17.3 billion deal combines 2 of the largest casino operators in the U.S. to form one megalithic megaresort giant, and the largest in the world by total gaming assets. The deal will result in Eldorado and Caesars shareholders retaining 51% and 49% of the combined company's outstanding shares, respectively.
Eldorado CEO, Tom Reeg commented on the deal. "Eldorado's combination with Caesars will create the largest owner and operator of U.S. gaming assets and is a strategically, financially and operationally compelling opportunity that brings immediate and long-term value to stakeholders of both companies," Reeg said.
"Together, we will have an extremely powerful suite of iconic gaming and entertainment brands, as well as valuable strategic alliances with industry leaders in sports betting and online gaming. The combined entity will serve customers in essentially every major U.S. gaming market and will marry best-of-breed practices from both entities to ensure high levels of customer satisfaction and significant shareholder returns," Reeg said in a press release.
Reno-based Eldorado plans to retain the more recognized brand name of Caesars for its iconic properties. Analysts speculate that while Caesars Palace itself will undoubtedly remain intact, some of the various minor properties may be potential targets for divestiture. The deal will be finalized sometime next year.
The Properties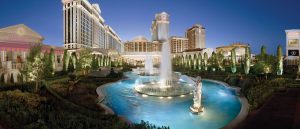 Caesars Entertainment Corp. operates Caesars Palace, Bally's, Flamingo, Harrah's Las Vegas, The LINQ Hotel, Rio, Planet Hollywood, Paris Las Vegas, and The Cromwell. Caesars' combined gaming assets include more than 51,000 hotel rooms, 4 million square feet of casino space, 71,000 slot machines, 4,000 table games, and 300 food and beverage outlets.
Eldorado Resorts owns 26 casinos across 12 U.S. states, including Reno properties Circus Circus, Eldorado Reno, and Silver Legacy. In addition, the resort group owns a considerable number of properties in Missouri, Mississippi, and Louisiana.
While experts predict that the bigger brands under Caesars' empire will remain untouched, Bally's Atlantic City is in danger of being closed after the acquisition deal finalizes. New Jersey regulators may force Eldorado to close the Bally's property over fears that the company would have too much of a monopoly in Atlantic City.
Bally's AC has seen better days; it was already under threat from casino competitors until the Revel Casino closed. However, Caesars had been neglecting Bally's, leading to broken windows, and even unhealthy levels of lead in the drinking water. One of Bally's customers called the resort "Caesars' stepchild."
Future Moves
A deal this large takes time, and shareholders of the 2 companies must approve the final details of the transaction. The Nevada Gaming Commission and the Gaming Control Board will weigh in to review the deal, which probably won't be finalized until sometime next year.
In the meantime, future expansion plans would be placed on hold, including entry into Eastern casino markets.  According to Reeg, the new merger may mean the end of Caesar's designs on the Japan market.
"The opportunity internationally is going to have to be, frankly, stupendous for us to be running in that direction. But no firm decisions have been made at this point," he said.
Caesars CEO Tony Rodio is expected to run the company through the closing of the merger deal, but his role in the larger company is uncertain after then, according to a Caesars spokesman.
Rodio said in a statement, "I look forward to collaborating with Eldorado to bring our companies together."
Disclaimer: All images are copyright to their respective owners and are used by USA Online Casino for informational purposes only.