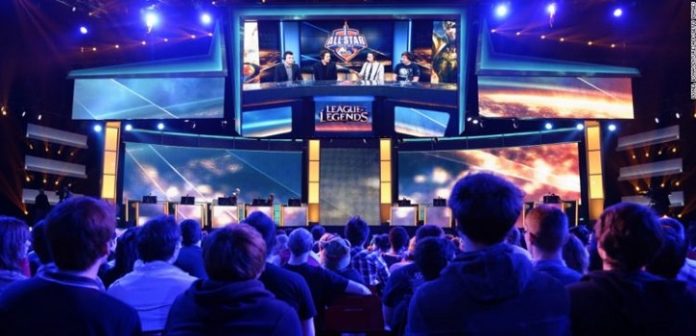 Esports started with a bunch of computer gamers on a private network and has expanded to the world of online gambling – and it's growing fast.

Early Online Gambling
The first online gambling licenses were granted in 1996 in Antigua and Barbuda, and the online casino industry exploded on the internet. The first online casinos offered classic casino games like poker and blackjack, but have since grown to offer a dazzling array of slot games, tournaments, and even live dealers.
Competitive computer gaming (aka esports) began as early as 1972, and was limited to a small clique of computer nerds networking on low-tech, pre-internet computers.
But when the internet came to town, esports took to the tech like fish to water. Now, anybody with an internet connection can compete with anyone in the world at any time. The den of dozens became a cast of thousands, and soon, gambling became part of esports as well.
Skin Gambling
Early esports gambling involved skin gambling, or using valuable weapons, vehicles, or avatars (skins) to trade as currency. In the esports world, having a rare weapon can give a player the edge, and a unique 'skin' or appearance will make the player stand out in the crowd.
With fantasy esports, players build a fantasy football team (as in FIFA) with avatars based on the appearance and skills of real life athletes. And they are more than willing to pay to play, because the better the player is in real life, the better the virtual player becomes at esports.
But skin gambling is the subject of ongoing controversy because underage players are 'wagering' with skins online, which is tantamount to gambling in the eyes of some. Since they buy skins with real cash, once they use them to wager with, this can be viewed as gambling.
Now esports tournaments host major events globally. Las Vegas casinos have grabbed a piece of the action by hosting esports tournaments in their convention centers. Thousands of enthusiastic esports players gather to compete for the top prize in games like Call of Duty, Counter Strike: Global Offensive, and more.
Naturally, gamblers place bets on the winners of these tournaments, and the esports gambling world is growing exponentially. As online gaming grows, so does the gambling aspect. Games like GTA Online went beyond the usual auto theft to include a functional online casino. Players could enter the virtual casino and gamble on skins, weapons, and cyber-cash with other global players.
Esports may yet be a niche market, but it is growing fast. Esports revenue totaled $869 million in 2018, and experts predict that annual revenues for esports in 2022 to triple to $3 billion.
As long as humans remain competitive, they will gamble and play sports to become the dominant player. And esports will continue to grow and reach larger audiences who want to wager on the action.
Disclaimer: All images are copyright of their respective owners and are used by USA Online Casino for informational purposes only.