Following the latest controversies that have closed in on it, British bookmaking and gambling giant William Hill has decided to press its luck by putting up a stake in the U.S. market.
In February, William Hill was forced to pay a hefty sum of £6.2 million by the United Kingdom Gambling Commission (UKGC) after it broke anti-money laundering and social responsibility guidelines.
In addition, one of the advertisements by William Hill was declared illegal by the Advertising Standards Authority (ASA) after an endorsement for a bonus payout aspect was proven to give the wrong impression to its customers.
As if it could not get worse, the London-based bookmaker was hit again. Australia has upgraded its gambling laws, and now credit-betting companies, such as William Hill, are prohibited from operating in the country. As a result, it went up for sale.

William Hill Responds
In a statement, Philip Bowcock, chief executive of William Hill, reiterated that leaving the Australian market opened doors for the company and allowed it to burst forth its businesses not only in the United States but also in the United Kingdom.
"(It) allows us to focus on continuing to grow our U.K. Online and U.S. businesses, particularly as we prepare for the decision on the PASPA appeal due in 2018," Bowcock's statement read.
CrownBet takes over William Hill in Australia
Bitter rival CrownBet has put itself a step ahead of everyone in the Australian market after successfully winning the bid against bookmaker Sports Bet to take over William Hill's Australian assets, according to a story reported by Nick Toscano in The Sydney Morning Herald.
The London Stock Exchange revealed earlier this month that CrownBet bought William Hill for a sum of U.S. $300 million, making it the third largest online sports betting site in Australia after TABCORP and Sports Bet.
The acquisition is set to increase the market shares of CrownBet in Australia, taking customer support from New South Wales and Queensland, which were previously dominated by the former top dog, William Hill.
A Good Move by William Hill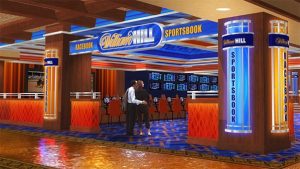 While expanding its businesses in the United States has its own share of challenges and obstacles, experts believe William Hill would be in the upper echelon of the market once it starts to open up.
Chalkline Sports Chief Executive Officer Daniel Kustelski spoke to Totally Gaming and stated that the recent decision of William Hill to spread out into the United States would greatly benefit its cause to dominate the online betting on the North American continent.
"The U.S. business is a small portion of the overall William Hill global business, but William Hill U.S. seems really bullish on the U.S. The WH US Nets Revs of $72.9M is about 8% of their total Net Revs." Kustelski said.
Kustelski emphasized that the move to the United States will give the company a lot of options over European competitors since it has already established itself after garnering assets in the United States
The subsidiaries of the company in the United States include, but are not limited to, American Wagering, Sporting Bet, and William Hill Casino Nevada.
"2017 figures show 23.7% of Nevada Handle (20.9%:2016) and 29.3% of Nevada Hold (26.8%:2016) their overall margin of 6.3% is well above all of Nevada's 5.1%. They are a good business and have a big book in Nevada. The margin is strong even though they offer the most mobile betting in Nevada," Kustelski added.
William Hill first entered the U.S market in 2012 where it built a ground wall in Nevada to position itself in Sin City.
Disclaimer: All images are copyright to their respective owners and are used by USA Online Casino for informational purposes only.