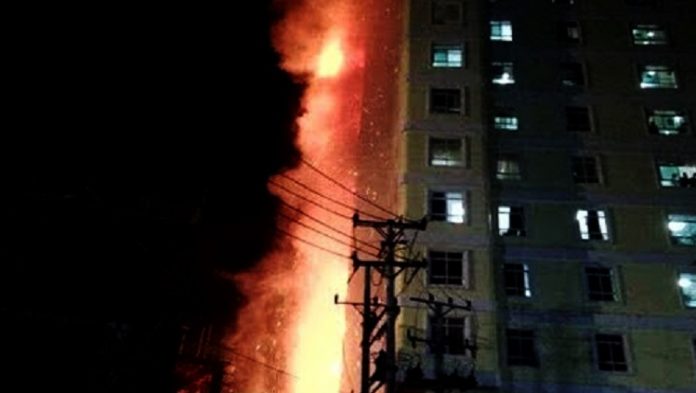 According to reports, the fire was visible from a great distance, and was likely due to a faulty electrical circuit in one of the elevators which saw the flames spread through the shaft and onto the other floors. The casino in question is the Golden Crown, and firefighters attempted to extinguish the blaze for 2 hours until it was finally put out by 11pm that same night.
Major General Ath Khem, who is also the provincial Chief of Police, said "There were six people who were injured in the fire which started from the fourth floor and spread to the 13th floor," he claimed. "Five of them are Cambodian staff and the other is a Chinese guest."
"They got injured because of smoke inhalation while they were trapped by the flames and were sent to hospital," he also said.

Help came from surrounding towns
Thai authorities in Sa Kaew sent members of their own fire departments and engines to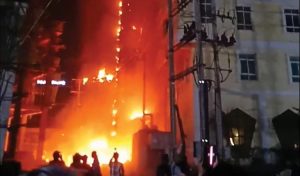 help control the situation. Hundreds of people were still evacuated through various emergency exits and escape routes, which were not critically affected by the smoke at the time.
Although fleeting attempts were made to get everyone to safety, fire fighters had to eventually break the glass in the front of the building to carry out part of the evacuation, due to thick smoke rendering the stairways completely unusable or fit for use.
The National Fire Department's Chief, Nget Samon, said that last year alone there were over 534 reported fires with 52 casualties and 17 fatalities throughout Thailand in 2018. In 2017 there were 514 fires which left 128 injured and 22 killed.
Fires in casinos are more common than people think
It's not the first time a fire has broken out in a casino. The Las Vegas strip has certainly seen its fair share of flames in the past, with some of them under much worse circumstances.
The MGM Grand was considered one of the worst hotel fires in American history. In November 1980, an electrical malfunction occurred on the ground floor where the deli was located; sparking a huge fireball and thick smoke trail which led up to the casinos 26-storey hotel. By the time fire fighters arrived at the scene, the blaze was almost uncontrollable and they were forced to retreat quickly. 87 people lost their lives that evening, mainly due to smoke inhalation, while 700 others were left severely injured. MGM faced legal settlements of almost $300 million in property damages, and hundreds of millions in the obstruction of business operations.
A year later, the Las Vegas Hilton experienced a fire caused by a highly-troubled 23 year old male, who was working as a room service busboy for the hotel. Though he was convicted of murder and arson with an 8-year, non-negotiable life sentence – his actions were the direct cause of 8 deaths and 200 injured victims across the upper floors. Fire officials claimed that the situation could have been a lot worse with a much higher death toll, had modern fire safety technology not been fitted into the establishment, following from example of the MGM's fire a year prior.
All casinos have a fire prevention plan in place, but they are still very vulnerable when it comes to these kind of emergencies. Many establishments are open 24/7 in Las Vegas, meaning fire safety maintenance has to be carried out more frequently, and repairs to electronic equipment and appliances are near enough constant – especially when the casino is part of, or adjoined to a hotel complex.
Despite the tragedy and devastation fire has caused the strip in the past, instances such as the MGM Grand has helped to shape fire safety codes and reform fire practices world-wide over the years, making casinos and hotel resorts generally much safer and better equipped for such events this day in age.
Disclaimer: All images are copyright to their respective owners and are used by USA Online Casino for informational purposes only.