There have been many talks about privatization in several industry sectors in Europe for some time. Such discussions have primarily covered the transport industry, with the rail network in the United Kingdom always a hotbed of discussion.
However, now it would seem that France has gone one step further in its attempt to request that its lottery be privatized.

Government Targets FDJ
The lottery in France falls under the FDJ, or the Francaise des Jeux. Gerald Darmanin, minister of Action and Public Accounts, is suggesting that the government have plans for this privatization already drawn up.
Under such plans, the government would aim to sell part of the 72 percent that it currently holds with FDJ, with the intention of doing so while it still has some control left at this point. The remainder of this capital is divided between a succession of smaller shareholders.
French Reasoning of Such A Decision
Darmanin believes that by opening up the capital of the Francaise des Jeux, there would be an opportunity to maintain the monopoly. Currently, some of those smaller shareholders include an association called Gueules casses, a veteran association, which has a 9.2 percent share, and the actual employees of the company, who have a 5 percent share.
However, the French state has always enjoyed the monopoly on the revenue that is derived from such lottery games and scratch-card games. It, therefore, suggests that it is precisely because of this wonderful stream of income that it has every intention of keeping this intact.
It's little wonder that the government would want to hold onto such a sector when you consider that, out of the 14.3 billion euros that players tend to spend on the lottery and those such scratch cards, a whopping 3.1 billion of this will inevitably end up in the government's treasury pocket.
French Government Work to Find A Balance to Suit It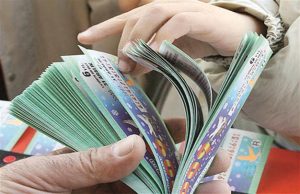 What should not, therefore, come as a surprise to those following such developments is the hard work France put in to come up with a viable solution to this proposal. It would see the government benefit significantly at the same time as it officially seeks to privatize the country's lottery.
The question now being asked is how can the government continue to retain this vast majority of revenue at the very same time it is bringing in fresh money?
Experts suggest that to do something like this efficiently, the government would need to look at not only seeking to keep control of the FDJ, which it could aim to do so through the double voting rights system, but also by dropping below the 50 percent symbolic threshold of capital.
Ultimately, by successfully implementing both procedures, it is claimed that there would be a possibility for the French government to recuperate a record 1 to 1.5 billion euros – which is half Francaise des Jeux's total worth!
A President's Election Pledge
This news all comes on the heels of French President Emmanuel Macron's election pledge. Back in mid-2017, he pledged to introduce a plan to sell off 10 billion euros worth of stakes from those government-owned companies. The move was in a bid to fund a new finance innovation.
It was accurately predicted back then that the French National Lottery would be one of the first of those companies on the list for partial privatization. At the time of the pledge, the FDJ refused to be drawn into the conversation as to whether it favored the plans, but now it seems such policies may be taken out of its hands after all.
Disclaimer: All images are copyright to their respective owners and are used by USA Online Casino for informational purposes only.