The Macau gambling giant, Galaxy Entertainment Group has entered the bidding war for the highly coveted gambling licenses in Japan. Back in 2015, GEG negotiated a partnership with Société des Bains de Mer et du Cercle des Étrangers à Monaco (SBM), which owns and operates some of Monaco's most profitable casinos (including the famed Monte Carlo casino), for five percent of the firm's ownership. The deal has proved mutually beneficial as SBM looks to expand into the large gambling market of Asia. The Galaxy-SMB pact is now vying for one of Japan's highly prized gambling licenses.
In an interview SBM General Manager Jean-Louis Masurel stated, "We wanted to expand in Asia, and we decided it would be stupid to try and do it alone. It wouldn't make sense if we had neither the human nor financial resources to do so. So that's why we wanted to have a partner."
Francis Lui, Galaxy's vice chairperson and the eldest son of billionaire casino mogul Lui Che Woo, added, "We see loads of potential in the Japanese market and aim to win a casino license there in cooperation with Societe des Bains de Mer."

Heavy competition among new parameters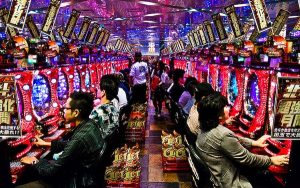 In the wake of the recent Japanese gambling legal revisions, the country's top brass will be granting just three licensed gambling contracts to casino operators eager to establish integrated resorts in the country. These coveted licenses are sure to prove more than lucrative to the powerhouses that will ultimately receive them.
Among those in the contention for license ownership are mega-casino giants Wynn Resorts, the Sands Corporation and MGM Resorts International, who have publicly stated that its operators would be willing to invest upwards of ¥ 1 trillion to receive contested gambling rights for integrated resorts (IRs) in Japan. Japanese officials have their hands full in determining which operators will receive the licenses and which will not.
The world's largest gambling enclave, Macau, which boasts five times more annual revenue from casinos than Las Vegas, could become second in line for gamblers in the Asian regions once Japan gets its foot in the door. The Eastern Island chain has been struggling economically in recent years, but is hoping to stimulate its economy by focusing on tourism with the introduction of IRs.
It has been a slow process, and the Japanese Diet has been methodical in its decision-making, however even the boldest critics cannot argue the immense tax revenue that legalized gambling will bring. Japan currently sees tens of thousands of visitors from China alone each month, where gambling is illegal. Top casino operators from around the world are eager to get their hands on the already existing market as Japanese officials are loosening their grasp on restrictions for gambling.
Ahead of the game
GEG, which owns and operates hotels and casinos in Macau through its subsidiary, Galaxy Casino S.A, has seen record numbers from gambling revenue for the first quarter of 2018.
The company is listed on the Hong Kong Stock Exchange and had total earnings of $62.5 billion in 2017, an 18% increase from the previous year. In regards to a successful first quarter for 2018, Galaxy founder Che Woo stated, "We are very pleased to report that we have experienced a positive start to 2018, with all-time record quarterly adjusted EBITDA. This represents our 9th consecutive quarter of EBITDA growth despite competitive new capacity being added to the Macau market."
GEG reported earnings at $2.19 billion for the first quarter of 2018, a 31% jump compared to last year's numbers. The largest increases have come from VIP revenues, which increased by 44%. VIP players make up for more almost half of the total revenue each year for all of Macau's casinos; a factor that will surely prove relevant for the potentials of the Japanese gaming market.
Disclaimer: All images are copyright to their respective owners and are used by USA Online Casino for informational purposes only.