The American Gaming Association (AGA) called on state regulators to update their gambling laws to allow cashless payment options in casinos. They cited concerns of cash handling during the pandemic as the motivating factor in their request.

Safer Payment Choices
In times when picking up coronavirus from handling money is a public concern, the time is ripe for a payment update. AGA CEO Bill Miller has been trying to get cashless payment options into casinos since he first took the chair.
"Advancing opportunities for digital payments has been one of our top priorities since my first day at the AGA," Miller said. "It aligns with gaming's role as a modern, 21st century industry and bolsters our already rigorous regulatory and responsible gaming measures. The COVID-19 pandemic made it all the more important to advance our efforts to provide customers with the payment choice they are more comfortable with and have increasingly come to expect in their daily lives."
Many Benefits
Safety is the chief concern among reasons to switch to cashless payment options in casinos. Even though coronavirus is transferred mainly by coughing and sneezing, it can linger on paper surfaces – like cash. But safety is not the only reason gaming leaders want to advance cashless payments.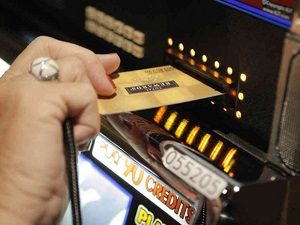 Another benefit of cashless transactions is the ability for gamblers to control their bankroll and set limits on gambling. The AGA also claims that casinos will benefit from the switch by cutting down the number of currency transaction reports they have to file with the government.
Cashless transactions will also attract new customers keen on the idea. According to Sandra Douglass Morgan, chair of the Nevada Gaming Control Board, regulators are "open to looking at new ways of how technology, including cashless wagering, can help attract new customers and be beneficial for not only the industry but even for responsible gaming measures as well," she said.
However, not all countries view cashless payments as a benefit. In a nationwide crackdown on gambling activity, the UK government banned gambling with credit cards. The UK Gambling Commission made the bold move in order to curb gambling addiction, which they say is worsened when people use credit after they run out of cash.
However, in these troubling times as we emerge from global lockdown, U.S. casinos are doubling down on cashless payments – for the sake of safety.
Disclaimer: All images are copyright of their respective owners and are used by USA Online Casino for informational purposes only.