Caesars Entertainment Corp. announced its withdrawal from the IR casino license race in Japan. Once the Japanese government decides who will receive 3 initial casino licenses later this year, Japan is expected to become Asia's second largest gambling market after Macau. Caesars cites the impending merger with Eldorado Resorts as part of the decision to shift its focus away from Japan.
Casino Contenders
International casino companies and several Japanese cities all have their hats in the ring for the first 3 integrated resort (IR) casino licenses in Japan. In addition to the 3 largest cities of Tokyo, Osaka, and Yokohama, the cities of Hokkaido, Kanagawa, Nagasaki, and Wakayama would be happy to host an IR.
The competition for casino licenses has been fierce during a lengthy bureaucratic process. Yokohama recently entered the race for a casino, and shortly thereafter, Sands shifted its attention from Osaka to Yokohama. The 3 largest cities are the natural favorites in the IR casino race, and the IR roulette wheel is still spinning. Where she stops, nobody knows.
Shifting Focus
The timing of Caesars Entertainment's merger with Eldorado Resorts is most likely the reason for their decision to drop out of the IR Battle Royale in Japan. The predicted cost of building a casino in Japan is $10 billion, and Caesars has been struggling with a debt burden since 2008. Caesars has already passed on an opportunity to invest in the Macau casino empire. It remains to be seen whether Caesars will pursue its plans for the Korean casino market.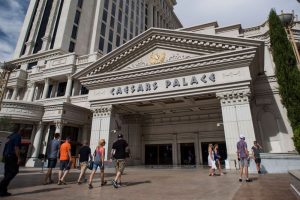 Regarding the decision to bow out of the casino race, Caesars CEO Tony Rodio explained, "The timing of our decision is driven by sensitivity to the significant decisions Japan's government and business partners will likely be making later this year to advance the process. All of us at Caesars applaud the country's thoughtful, inclusive approach to creating an integrated resort business model that supports Japan's social, as well as economic aspirations."
Caesars is the first major international casino operator to withdraw from the IR casino race in Japan, while other firms have shifted their focus among Japanese cities. The city of Yokohama was the latest entry on the list of potential sites for the first casino, and immediately after the announcement was made, Las Vegas Sands dropped its Osaka casino plans to pursue Tokyo or Yokohama. As the 2 largest cities in Japan are only 30 miles from each other, Tokyo and Yokohama both make a promising investment for whichever casino company wins the licensing bid.
While optimists were hoping to see the first gambling action in time for the 2020 Olympics in Tokyo, realists predict that the first Japanese IRs won't open until 2026. Investment firms have predicted that Japan could see gross gaming revenues of up to $20 billion per year.
Analysis
Japan opened the gateway to gambling in recent years, now we all eagerly await the results of the Battle Royale. Who will prevail? Casino giants are approaching Tokyo like Godzilla and Mothra, ready to descend upon the hapless cities and fight for dominance. Or so the casino critics might say. However, overwhelming economic indicators prove that mega-resort casinos are good for any region which welcomes them.
This time, Godzilla returns as a friend, and promises not to run rampant through the streets. And Steve Wynn has already been removed from his lofty tower, so your maidens are all safe. Set up the sake Japan, casinos are coming. And just in time. After recent economic downturns have wrought havoc on the world's major economies, the IR industry might just see Japan through the next millennium.
After Japan's auto industry shrank after America started buying cheaper Korean cars, followed by the Fukushima disaster, Japan could use a kiss from Lady Luck. You're in luck, Japan: casinos are coming. So pucker up, buttercup.
Disclaimer: All images are copyright to their respective owners and are used by USA Online Casino for informational purposes only.