Gov. Eric Holcomb finally gave the greenlight for the Indiana's revised gambling legislation to take effect from September this year.
Officials had been eagerly awaiting his decision to move forward with the proposal since it passed lawmakers last month. Much to everyone's delight, the new laws will see Hoosiers able to place wagers as early as September, while dates for horse-track casinos introducing live dealers into their games has automatically been brought forward to Jan 1, 2020, as opposed to Jan 1, 2021.
Additionally, the legislation will also allow 2 casino establishments to be built in both Gary and Terre Haute.
Spectacle Entertainment is the current operator of the 2 riverboat casinos in Gary: the Majestic Star I and Majestic Star II, located at the Buffington Harbor. Since the Bill was put forward to the House back in April, the gaming entities have expressed their desire to close both riverboat casinos, and opt to manage a new, better-located inland facility instead.
But, despite needing approval from both Indiana lawmakers as well as Gov. Holcomb, the governor and Spectacle have recently faced high levels of scrutiny over 2 private company flights Holcomb was given last year. This prompted the concerns of state democrats as to whether this influenced decisions towards Spectacle being the first in line for the new casino.

Pushing Controversy Aside
The law now allows Spectacle to take ownership of the planned $300-million casino in Gary, subject to giving up one of their licenses and paying a $20 million fee to the state for relocating the other one. Should Spectacle then choose to sell the casino within 5 years, they would be required to pay an additional $20 million.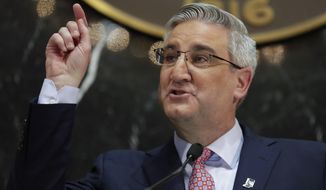 The new casino will also provide multiple new job opportunities. Approximately 2,764 gaming positions will become available when the facility opens; and if all are fulfilled, it will become the largest casino operation in the entire state.
"The impact it will have on Gary, Northwest Indiana as well as the entire state is widespread, and I look forward to the historic changes that will take place," said Sen. Eddie Melton. "This is something our community has been working on for over a decade, and with this signature, hundreds of Hoosiers will find employment."
Naturally other casino makers are concerned, but the law would also provide subsidies for Hammond, Michigan City, Evansville, East Chicago and French Lick to soften the blow the 2 new casinos could inflict on the state.
The Indiana Gaming Commission has been urging operators to submit applications for Spectacle's former, surrendered gaming license to operate the new casino in Terre Haute. Even though Spectacle would still be eligible to apply too, whoever is awarded the license would be required to pay a fee of $5 million, and a minimum investment of $100 million.
Though the Terre Haute establishment still needs approval in Vigo County, the state's casino count will go from 10 to 12 if it receives the majority of votes in the next referendum.
New Terms Have Been Outlined
In terms of sports betting, only adults aged 21 and over will be eligible to place wagers; and the resulting revenue will be subject to 9.5% tax rate. Though this figure is quite high in comparison to other states (Nevada and New Jersey pay 6.75% and 8.5% respectively), both West Virginia and Mississippi currently pay rates of 12% and 10%.
Hoosiers will be able to place wagers on off-track betting facilities through their smartphones and also bet on amateur and collegiate sports too. The new law also dictates that casino operators are now permitted to run 6 gambling establishments each instead of the former 2.
Officials have not been shy in expressing how the changes are the most significant since riverboat casinos were permitted in 1993. However, Holcomb and the majority are confident the move is for the good of the state, saying how he will "direct the Indiana Gaming Commission to monitor for potential effects of this bill so that we can make necessary changes in future legislative sessions."