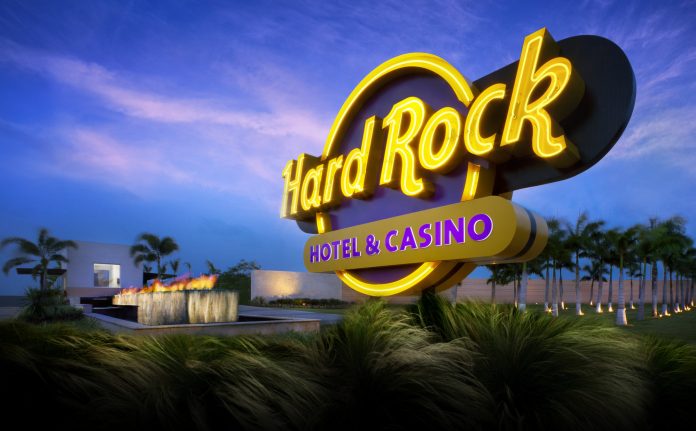 The Hard Rock Hotel & Casino Las Vegas will close its doors on February 3, marking the end of a 25-year run. It will shut its doors until later this year, when the Hard Rock will become a Virgin Hotel Las Vegas. But Hard Rock isn't going down without a party.

The End of an Era
The megaresort casinos of Las Vegas are bought and sold all the time in Sin City, and most of them literally go out with a bang when they are imploded and rebuilt under a new name. But on the 25th Anniversary of Hard Rock Hotel & Casino Las Vegas, the transition into the new Virgin Hotel will involve no explosions – only a big blowout closing party.
Leading the Vegas Hard Rock's final guitar strum is CEO Richard Bosworth. "We are looking to having a great party to honor this great resort," Bosworth said.
The festivities begin on Thursday night and will rage on for four days until the closure at 3am on February 3. Guests can look forward to rollback menu prices, thundering live music, and free-flowing booze at the Peacock Lounge, including a final toast by the CEO himself.
Rock History
Some of the famous rock memorabilia from Hard Rock's collection will be up for grabs for a few lucky fans. The hotel casino will raffle off some memorabilia, and the public will have the chance to buy some pieces of rock history as well.
The Hard Rock Hotel & Casino has had some red-letter dates in entertainment history, and not just from its rocking opening in 1995. The Vegas Hard Rock is the site of the death of The Who bass player John Entwistle, who died of a cocaine-induced heart attack. Bruno Mars also got into trouble with the blow when he was arrested at the hotel for cocaine possession.
Party hard if you're in Vegas, grab a piece of Hard Rock swag if you can, and fret not. You can still rock hard on the Las Vegas Strip at the Hard Rock Café location after the hotel casino closes. And just remember, Hard Rock fans: when one site closes, another one pops up somewhere else on the globe.
And if you happen to attend the final Vegas Hard Rock party, whatever you do, take a lesson from Entwistle and Mars and avoid the booger sugar.
Disclaimer: All images are copyright of their respective owners and are used by USA Online Casino for informational purposes only.