Clark County, Nevada (home to Las Vegas) has been known for its casinos and nightlife for decades. Millions of people flock to the area each year to have fun and gamble, dreaming of big money. However, Vegas is not always so friendly and welcoming. For some, Las Vegas is trouble, and sometimes people find themselves on the wrong side of the law. Criminals may have to go through criminal court—or they may luck out, and go through gambling court instead. The gambling court for non-violent offenders was the brainchild of a psychiatrist in the area. Now, criminals who may have a gambling addiction can get help through the gambling court.
Gambling in Vegas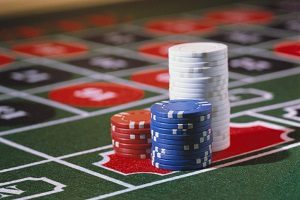 Gambling has been in Nevada since the days of the rush to find gold and silver in the area. At that time, Las Vegas was more wild, wild, west than glitz and glamour. In the 1950s, with the metals mining winding down, the town looked for a way to continue to be relevant. Las Vegas turned to gambling to fund their revenue stream. Today, Las Vegas is the most lucrative gambling town in North America and pulls in $18 billion a year in revenue. There are approximately 104 casinos of varying sizes in Las Vegas. There are mini-casinos with 2,000 feet of gaming space and large gambling palaces with nearly 200,000 feet of gaming space.
Criminal Activity Related to Gambling in Vegas
Economists have said that opening a casino generates gambling revenue, but it also creates crime. Researchers estimate that the opening of a casino increases the crime rate by eight percent the year the casinos open. Much of the increase in crime is non-violent. People who have become addicted to gambling commit crimes to get money to gamble. Research shows that a lot of the crimes committed are petty theft, embezzlement, larceny, and burglary. For example, a woman was recently convicted of stealing checks from her elderly patient and forging her signature. She stole close to $25,000 before she was caught.
The Origins of the Criminal Court
The gambling court in Las Vegas was the dream child of Rena Nora, a psychiatrist in Las Vegas. She was the leader of a gambling support group. The group asked for a criminal court specifically for gamblers who had addiction issues, but had committed non-violent crimes. The court is now held every other Friday and is presided over by a family law judge. Nevada already had courts for veterans and those addicted to drugs or alcohol. But they did not have a criminal court in place for problem gamblers.
Judges are able to grant offenders who commit crimes to feed their addiction intensive counseling and community service. The offenders will have to make restitution, and fulfill all the other requirements of the court. Some of those requirements are the completion of a counseling program and public speaking about the dangers of compulsive gambling. Judges in the gambling court in Las Vegas exercise leniency when deciding the on the cases of compulsive gambling offenders.
Judges will also decide how long the gambler remains on probation, and how long his or her treatment is. One of the first people to go to criminal court for gambling was a longtime aide to a politician. The employee had stolen over $40,000 from the gambling fund of her boss. The employees was addicted to video poker machines. She is now receiving therapy and working towards making full restitution to her boss.
Disclaimer: All images are copyright to their respective owners and are used by USA Online Casino for informational purposes only.