Researchers estimate between 1 and 2 percent of the millions of people who gamble each day have an addiction. According to the researchers, these people are a problem for the gambling industry. Instead of spending money to entertain themselves, which is what most gamblers do, problem gamblers spend money they don't have. Some researchers are looking into the brain's role in problem gambling. Others, however, are studying data on problem gambler habits. The data these scientists are looking at examine how a problem gambler's brain reacts to advertising and promotions.

What Is Problem Gambling?
Problem gambling can affect people no matter what their age, race, ethnicity or level of income. Researchers have found that many problem gamblers gamble to win back the money they have lost. This behavior is different from people who gamble as a job, or who gamble because they enjoy it. People who gamble responsibly are on a budget. They have a bankroll they use to fund gambling. They set limits for themselves. They decide how much to gamble on a particular day. For example, professional blackjack players will often risk 25 percent of their bankrolls on games on a particular day. When they win 25 percent, they stop playing. They also stop when they lose 25 percent.
However, problem gamblers are not able to do that. Researchers point to several signs that illustrate a gambling problem. First, gambling is a problem if it interferes with school, work or family activities. Gambling is also a problem if it prevents someone from engaging in meaningful relationships with family and friends. People may also have a problem if they suffer huge losses while gambling, and continually try to win it back. People may choose to gamble, even if it means losing family, friends or employment.
The Problem with Regulating Problem Gambling
Advertising
One of the most difficult problems governments face when they are trying to regulate problem gambling is regulation. While there are laws in place to help social service agencies and municipalities regulate gambling, they aren't always effective. For example, many countries, such as Australia, the United Kingdom, and Canada, have regulated advertisements for gambling. In the U.K., sportsbooks cannot advertise during live sporting events. However, advertising online using platforms, such as YouTube, Twitter, Facebook, and Instagram, is harder to regulate. These platforms cross international borders and allow companies around the world to continue to market gambling without any regulation.
The Advertising People Don't See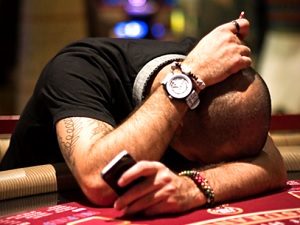 Researchers warn that, in addition to advertising the promises of gambling, countries need to promote healthy gambling habits. For example, advertising campaigns could show gamblers enjoying the game and, then, stopping before they run out of money. Other campaigns could show the downside of problem gambling. Over the last 20 years, the ads for antismoking campaigns have shown the horrors of cigarette smoking. This has led to a drastic reduction in smokers. This kind of campaign has also been effective at targeting the users of other drugs, such as methamphetamine. The campaign has used pictures showing the ravages of methamphetamine in its ads.
Tighter Regulatory Controls
Advocates for tighter government regulation also want to crack down on behavior that encourages problem gambling. Often, the gambler doesn't realize how much money he or she has spent until it's too late. For example, many companies offer gamblers the opportunity to get free money to gamble online. Gamblers put a certain amount of their own money in, and the casino or poker site matches it. Some gamblers get so into playing the games they don't realize how much money they have lost until it's gone. Also, many people want tighter controls over in-game or in-play sports betting for the same reason. Gamblers find themselves getting lost in the gameplay and don't realize what they have spent. Researchers believe it's necessary to institute tighter controls to prevent overspending, especially by those who have a gambling problem.
Disclaimer: All images are copyright to their respective owners and are used by USA Online Casino for informational purposes only.