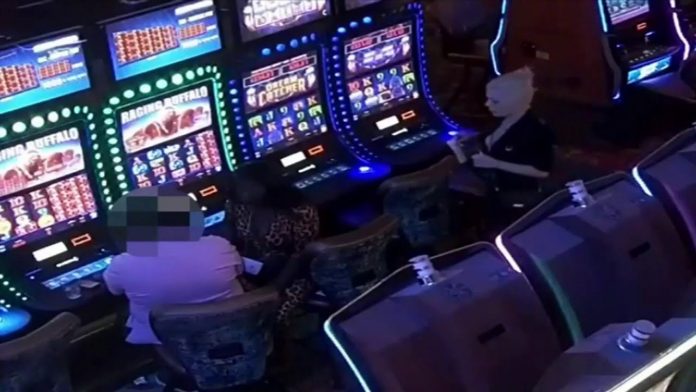 In a scene straight from a classic spy movie, a woman meets a flashy older man who is gambling, offers him a drugged drink, takes him to a room, and then robs him blind while he is passed out.
Police in Hollywood, Florida, reported a bizarre crime in the Seminole Hard Rock Hotel and Casino: 2 women were caught on video surveillance camera serving a drugged drink to a man, then escorting him out of the casino. He reported to police that he woke up in a hotel room the next morning without his cash and Rolex watch.

The Rolex Robbers
The victim of the crime was identified as a 69-year-old tourist from the Cayman Islands, who was visiting the Hard Rock for an evening of gambling adventure. He had no idea that his adventure would end with him passed out and robbed of his money and Rolex watch.
The surveillance video from the casino clearly shows 2 women approaching the victim and starting up a conversation. The man was gambling at the slot machines when the women approached and offered him a drink. From the video, you can clearly see one of the woman chatting with the man while the other puts something in a drink and hands it to the man.
Later, video surveillance footage shows the 2 women walking arm in arm and escorting the slightly wobbling man out of the casino. They were seen entering a ride-share vehicle with the man and leaving. When he woke up the next day, his money and Rolex watch worth $15,000 were missing.
The women were described as being 35 to 45 years old, one with long blonde hair and a tattoo on her upper left chest, wearing a black blouse and black pants. The second woman has shoulder-length black hair, a dark complexion, and was wearing a leopard-print jumpsuit.
Slipping a Mickey
In the vernacular of the hard-boiled detective tales of yesteryear, the process of drugging a drink and robbing someone was called 'slipping (someone) a mickey.' The drug in question was usually a powerful sleep agent or a drug known as a 'date rape drug.'
Police experts report that this crime has more than one possible outcome. If too much of the 'mickey' is added to the drink, the wrong dose could be lethal, turning a robbery into a homicide.
And the Hard Rock Casino case is not an isolated incident. This has happened before at other casinos. In one case reported in Palm Beach, a man reported escorting 2 women from a casino to his boat, where they mixed him a drugged drink, and he woke up missing his $10,000 Rolex watch and a $6,000 gold ring.
This type of crime has been reported in several cities and states, from Florida to Michigan. One thing seems to be clear in all cases: older men gambling and/or drinking, wearing expensive watches, and being totally gullible.
Analysis
Note to robbed men: no, you don't get to flash the #metoo. Just because women took advantage of you in a vulnerable state does not mean there's an epidemic of women abusing men.
All the victims were typical middle-aged slobs who liked to show off their expensive watches and jewelry. Then when some semi-attractive women approach you with smiles, you automatically think it's because of your sheer animal magnetism.
No, dumbass! You're a semi-feeble man wearing a Rolex sitting in front of a slot machine! You might as well wear a ROB ME sign! Did you think your fantasy of shagging 2 women was finally coming true?
Yes, we are totally blaming the crime on the victims and what they wear. If you don't dress like a rich male douchebag, you can avoid the crime altogether. Just wear a plastic Casio watch when you go out. If you really have enough money to buy a Rolex, just buy a bunch of hookers and coke.
Or stay home and gamble at an online casino, where you're totally safe. Case closed.
Disclaimer: All images are copyright to their respective owners and are used by USA Online Casino for informational purposes only.