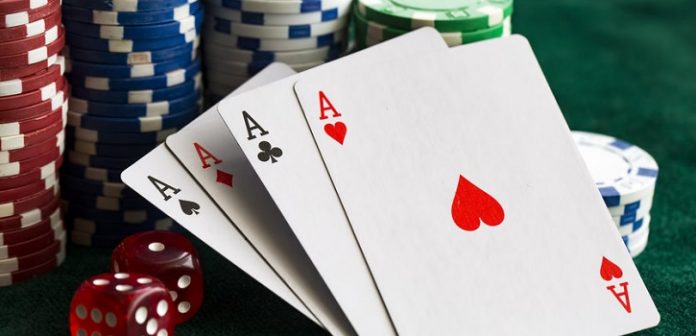 One of the recent New York raids involved an illegal poker game with a women who referred to herself as the "LeBron James of Poker". However, one of the men charged in the indictment of poker runners and poker players has said that the woman really wasn't that good at her job, and that all of the information about her poker prowess was hype.
New York Laws About Poker Games
New York law allows people to play poker in small private games with friends. However, the law does not allow poker games for profit. The state does allow poker games to be played at one of the casinos in the area. New York state has 21 casinos and racinos located throughout the state. Some of the casinos are Indian tribal casinos, mostly located in the northern area of the state, while the other casinos are commercially owned. While not all of the casinos offer poker games, most of them do. Some of the casinos have high-end poker rooms, where high rollers are able to play hands worth thousands of dollars at a time.
While there are lots of available locations to play poker in New York, many people in New York City play in underground poker games. It is not at all unusual for a raid to bust an illegal poker game in the city, but this recent bust was unusual.
The Raid
The recent raid was conducted on a loft above a drug store in the West Village. In the raid, police officers arrested three dozen people for drugs and gambling. Police officers found cash, as well as illegal pills and other narcotics. No drugs were found at the poker club, but drugs were found in two other locations, as well as other illegal poker games. In all, 32 people were charged with drug and gambling offenses.
The Ringleader
The head of the poker ring was a woman born in India, Geeta "Mira" Singh, who billed herself as lead promoter, who managed the poker room. Singh did not live in New York, but was based out of Atlanta. She used Meetup, a social networking site to find players who were interested in poker, and got them to come and gamble in her games, which were moved from place to place at times to avoid detection. Singh was charged with six counts of promoting gambling. She pleaded not guilty.
Before the raid, Singh had promoted herself as a poker ace. She discussed her major tournament wins, and her poker prowess, especially her skills at various forms of poker. Her poker game skills included being able to play Texas hold'em, pai gow poker, Omaha, and three and five card stud poker. However, some of the players who were arrested during the raid have stated not only was Singh not a poker ace, the games she promoted were not as high stakes as she proclaimed.
Criticism
One of the men that was indicted in the raid state that he was a regular at the games that Singh promoted. The man, who has played in no less than 100 different poker games throughout New York City, has stated that he was not impressed with many aspects of Singh's game.
For example, he noted that frequently, the games he played in were low-stakes. Most of the time, the ante was $20, sometimes less. While there were times that the games were full, many times the games had available tables. In addition, while Singh dressed up, and promoted the games as "high-roller", most of the players were not high-rollers, coming to the games in blue jeans and t-shirts. Also, there were times he ended up dealing cards because Singh was short on dealers. In short, she may have wanted to be a high-rolling hostess, but in reality—she was just a hostess.
Disclaimer: All images are copyright to their respective owners and are used by USA Online Casino for informational purposes only.