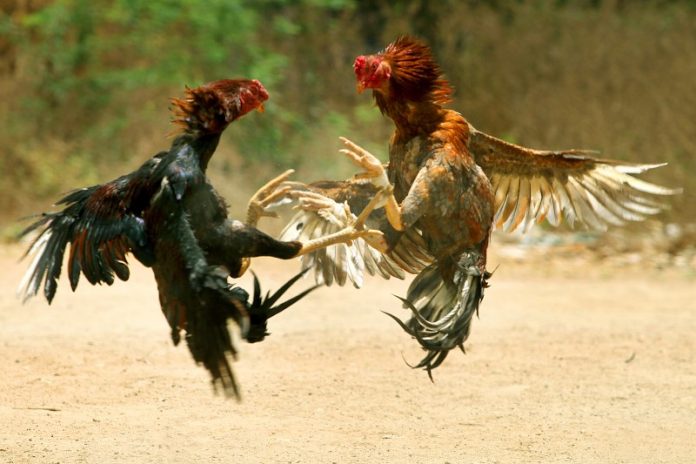 Kentucky, the epicenter of thoroughbred horse racing and breeding, has a darker side: breeding birds for illegal cockfighting rings. An animal welfare group plans to stop the practice.

Breeding Hub
The Bluegrass State is famous for its music, bourbon, Kentucky Derby, and its fried chicken, but it is also a top breeding hub for cockfighting rings. Cockfighting is illegal in all 50 states, but that doesn't stop bird breeders and ambitious gamblers from seeking underground betting action. Two birds enter, one bird leaves.
The Animal Wellness Action (AWA) sent letters to U.S. Attorneys representing Kentucky districts asking the feds to investigate seven individuals allegedly breeding birds for cockfighting. While cockfighting in Kentucky is a federal felony since 2007, that doesn't stop the state's breeders from supplying top fighting birds for the global cockfighting market.
The AWA group claims that a television network in the Philippines interviewed the best bird breeders in the U.S., and Kentucky was at the top of the list.
According to AWA president Wayne Pacelle, "Kentucky is at the center of the American and global cockfighting industry, with major operators shipping birds all over the world," he explained. "We're talking about, globally, a multi-billion dollar industry," Pacelle added. "I mean, it sounds absurd to throw the b-word out, but when you understand scale of the operations, that is absolutely the case."
Cockfighting Crackdown
Cockfighting is only a misdemeanor is eight states, including Kentucky, and now the AWA is pushing state and federal authorities to step in. Senator Morgan McGarvey (D-Louisville) is spearheading a bill to curb cockfighting.
"We've got to crack down, we've got to do better, and in 2021, you will see a bill introduced to ban cockfighting and to make many of the aspects surrounding cockfighting a serious crime in Kentucky," Sen. McGarvey said.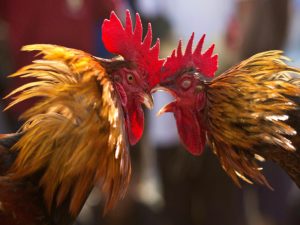 Legal experts suggest that the only way to stop cockfighting is to take the profit out of the activity – which means targeting breeders. When top bird breeders get a global reputation for quality, they can sell their birds for top price.
Georgia law enforcement arrested 20 people in a cockfighting session last December. Officers reported that 50 people paid $600 to enter five birds in the death match. The winner was awarded nearly $28,000.
In addition to combating cruelty to cockfighting birds, animal rights activists frown upon horse racing in general, citing concerns over the treatment of horses.
Disclaimer: All images are copyright of their respective owners and are used by USA Online Casino for informational purposes only.