The Macau Health Bureau has approved 23 new smoking lounges to be implemented in 33 of Macau's gambling establishments from September 30.
On Wednesday, the Health Bureau said they had received requests for 650 smoking lounges to be adopted by 34 of the region's most prolific gaming venues; none of which have been named.
At current, there are 45 operated gambling facilities throughout Macau, inclusive of 5 single slot parlors, according to the Gaming Inspection and Coordination Bureau. Many of these feature several gaming floors/areas plus VIP rooms to accommodate the region's yearly influx of high rolling players the destination is so renowned for.

Casinos Seem to be the Main Offenders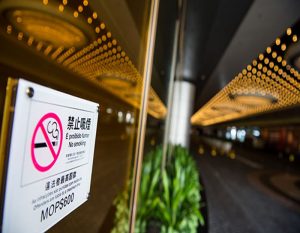 The public smoking ban came into effect in Macau on January 1, 2018. Smoking at VIP gaming tables was still permitted for a 12-month grace period up to December 31, but it appears the gaming sector has had an influence on the rules surrounding smoking in that time. The Bureau conducted inspections on several of the region's gaming venues, where there were 1.079 incidents of smoking violations, according to their statement.
This is a good result as far as officials are concerned, as the figure has been brought down by 14.5% since December's benchmark last year. However, this proportion of casino smoking incidents still accounts for 25.9% of the public smoking violations seen throughout the rest of Macau.
Melco Resorts and Entertainment Ltd are the owners and operators of the City of Dreams' casino and the Venetian Macao. In September, both establishments were identified as being the worst culprits of violating the smoking rules from what was concluded in Wednesday's statement.
Gross Gaming Revenues on a Decline
While it seems as though Macau can't make up their minds about whether to outright ban smoking in casinos – in other news, Golden Week just came to a close in the country.
Running every year from Oct. 1 to Oct. 7, Golden Week is a celebration centered on the 1949 establishment of the People's Republic of China. It's also one of the most profitable times of year for the Macau's casinos.
With behemoths like MGM, Wynn Resorts and Las Vegas Sands overshadowing the little guys in the region's gambling landscape, however, reports have concluded that gross gaming revenue for October hasn't given anyone much to shout about.
An analyst for Nomura Instinet, Harry Curtis forecasted that gross gaming revenue generated from Golden Week to be up by 57% on average compared to September. A result he said was "more or less in line with our expectation."
Analysts Are Optimistic
Taking into account recent patterns, Curtis also estimates that daily revenue was up by 8-10% YOY, along with the high roller revenues up by 3.2%. He believes that although Golden Week didn't outperform what analysts had initially expected, going forward he said that he would "caution investors from extrapolating from a single data point, as variability in the weekly data can be substantial, especially during holiday periods." 
As the figures could indicate a 4-8% decline in gross gaming revenue for October, Curtis still thinks Macau has the time and leverage for it to finish on a flat growth for this month at least. He also has Buy ratings for both Melco Resorts and MGM, with hopes for more growth by the end of October.
"Looking ahead, for more sustained outperformance, we think there needs to be progress on the U.S./China trade dispute and improved junket performance, which could happen after President Xi's visit in December."
Disclaimer: All images are copyright to their respective owners and are used by USA Online Casino for informational purposes only.