New statistics from Macau's Financial Services Bureau show that the city collected over $8.78 billion in tax revenues from gaming activities in the former Portuguese enclave through the end of August this year, to post a strong 17% year-on-year increase.
The gambling hub's total city tax revenues from all gambling sources came in at $10.53 billion according to the bureau, for the same eight-month period, to rack up a 15.3% increase year-on-year in total tax revenue. All gambling sources include not only casino floor tax revenue but also tax revenue from horseracing, greyhound racing, instant lotteries, Chinese lotteries and taxes on the lucrative commissions earned by licensed VIP junket operators.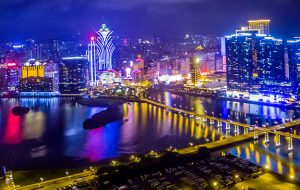 Comprising nearly 50% of Macau's total gaming revenue, VIP junket operators who bring in high-rollers from the Chinese mainland have seen a rocky few years after Beijing introduced its anti-corruption drive and sought to limit the flow of Chinese currency abroad by tracking high-roller activity, putting a significant damper on VIP activity in Macau and leading to 26 straight months of declining casino revenues.
Despite the devastation wrought by Super Typhoon Mangkhut, which hit the enclave over the weekend of September 15-16, causing the city for force the closure of all casinos and the industry to take a $186 million loss over a key holiday weekend, things are still looking up for Macau.

A palatable August and September
A recent ease in Beijing's anti-corruption drive together with increasing mass market visitor numbers has led to a rebound in total gaming revenue, with figures put out by Macau's Gaming Inspection and Coordination Bureau showing revenue of some $3.3 billion for August alone, a 17.1% year-on-year improvement to put total yearly gambling revenue at $25.043 billion, up 17.5% for first eight months of the year.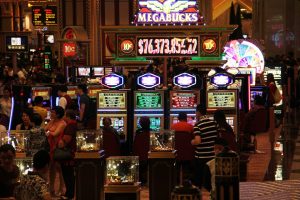 Golden Week figures, the week-long holiday celebrating the birth of modern China, were weaker than analysts expected but still strong. On the Thursday before the holiday, 27 September, Macau drew 51.8% more visitors than the same pre-holiday day last year, with a record total of 138,122 people visiting the Chinese special administrative region.
The following day, however, numbers declined appreciably, to show only 1.6% year-on-year to hit 135,853 tourists, with numbers continuing to slide over the weekend, down 12.1% year-on-year.
While analysts found the numbers for particular holiday days disappointing this year, the good news was that total visitor numbers for the entire holiday week were up 11.8%, with an increase in visitors from mainland China, long the largest tourist group to enjoy Macau's facilities, up 18.9%.
Looking at the Golden Week numbers, Morgan Stanley analysts stated, "Golden Week visitation (first six days) from China was up strongly at 19 percent year-on-year, and VIP volume was up more than 10 percent year-on-year. Even though the last two days of Golden Week saw flattish visitation, junket VIP revenue was robust and up year-on-year. However, it may not continue for the remainder of the month. We estimate October [gross gaming revenue] growth to be 7 percent year-on-year and fourth quarter 2018 growth to be 6 percent year-on-year."
Cautious optimism prevails
With gambling taxes set at 35% of gross gaming revenue plus an additional 4% gambling sector tax, it's definitely not cheap to operate a casino in Macau. The city expects total yearly direct gambling tax revenues to reach $10.21 billion, with nearly 86% of that amount having already been collected as of the end of August.
While there are a number of factors that could still suppress revenue growth, including the possibility of Beijing seeking to punish the city's three major U.S. casino operators, the Las Vegas Sands Corporation, Wynn Resorts, and MGM Resorts, as a result of President Trump's escalating trade war by restricting visitor numbers or otherwise ramping up its anti-corruption campaign and scaring away the mainland whales that generate up to 50% of the cities gambling revenue, many remain optimistic.
In part this optimist stems from September revenue figures, which were up 2.8% year-on-year to reach $2.27 billion despite the losses suffered by Super Typhoon Mangkhut.
Disclaimer: All images are copyright to their respective owners and are used by USA Online Casino for informational purposes only.