Melco Resorts and Entertainment is kicking off May with the grand opening of its brand new 160-meter tall Morpheus casino-hotel in Macau. The future highlight of the Cotai Strip is the $1 billion, 39-story megastructure designed exclusively with premium mass clientele in mind.
Lawrence Ho, CEO of Melco Resorts and youngest son of casino magnate Stanley Ho, released a recent statement detailing that the new property, designed by the internationally recognized architecture firm Zaha Hadid Architects, would begin operations without the assistance of casino junkets. The Morpheus, which is already making headlines with its groundbreaking engineering and design, is the first successfully constructed high-rise to feature a free-form exoskeleton structure.
The unique exterior resembles a "Klein bottle" like design, which was years in the making, presenting a multitude of planning and construction challenges since its inception.

Dicey gambling laws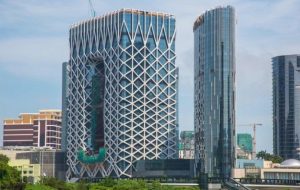 The official stance on gambling in China is that it remains unlawful, but the autonomous region of Macau is exempt from such laws to an extent. Its unique position allows for players throughout the Southeastern Pacific to frequent its premier gambling venues and luxury casino-resorts.
Though catering to gamblers of all calibers, the region depends on the revenues of its high rollers, offering gambling incentives and custom casino packages to VIP players that gamble an average of HK $1 million (est. $127,000) per visit. These players account for over 50% of annual market revenue with numbers continuing to grow.
The junkets essentially function as insurance for the casinos, and allow VIP players to bring in vast amounts of money used for gambling, side stepping strict Chinese gambling and money laundering laws in the process. Junket operators coordinate with VIPs on behalf of the casinos, providing amenities for the wealthiest of premium players to transfer large sums of money across borders for gambling.
Past corruption
Macau has come under harsh light in the past due to evidence of corruption between casino operators, business owners and criminal operations. The most famous case being that of Ho Chio Meng, who received a 21-year prison sentence after being found guilty for illegally capitalizing on over 2,000 public contracts, which benefited his criminal enterprise.
Some contracts even included connections to the MGM and Wynn casino properties in Macau although no formally charges were ever presented. Macau's casinos remain huge moneymakers, taking in nearly five times that of Las Vegas' combined annual casino profits.
On the backbone of strong revenues
CEO Ho remains firm in his convictions however, stating that the bulk of the new Morpheus property's profits will come from premium mass customers, bulk gamblers that bring in steady, sizeable revenue lower than that of the average VIP premium player, yet higher than the average gambler.
The gambling revenues of Macau have continued to set record highs despite past corruption crackdowns by Chinese authorities in years prior. Compared to April of last year, the region of Macau has seen an incredible 28-percent profit margin spike from casino revenue.
"Year-to-date growth right now is well over 20 percent. It will normalize but will still blow out the original expectations,"
Ho stated in a recent release. The premium mass market functions as the proverbial backbone of Macau's casino profits, and is the reason that gambling venues like Morpheus's counterpart, City of Dreams Casino, has continued to experience growth. Experts are not convinced however that Ho's new gambling facility will be able to sustain itself without the support of casino junkets; arguing that a change back to the norm could return in the future.
Disclaimer: All images are copyright to their respective owners and are used by USA Online Casino for informational purposes only.