For years, the game of mahjong has been a potential moneymaker for online gamers. But, it has also been a mystery to many gamblers and lovers of the game who would like to see it played online but were not sure how to do it.
Now, it appears there are online versions of the popular game that make it accessible for both Asian and Australian markets where the game is more popular than any other card or tile game.

What Is Mahjong?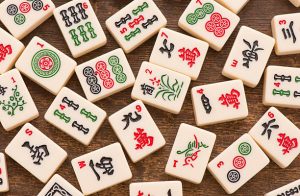 Mahjong is a game that began during the Qing Dynasty in the 17th century. It is played using 144 tiles (much like domino tiles) that are imprinted with Chinese characters and symbols. Usually, mahjong is played with four players, and they can draw, discard, or steal tiles until they can gain a complete hand with four sets and one pair.
One of the unique aspects of mahjong is that it varies from place to place. For example, old Hong Kong mahjong looks different from the mahjong played in South Korea. The game can be varied in the number of players, the tiles themselves, some of the rules for play, and even the table.
The variations in the game are part of the reason the game is so unique and different from location to location. There are 16 rounds in a game of mahjong, and, typically, players gamble on each round of the game.
While the game originated in China, the love for the game has spread to other parts of Asia, such as Vietnam and Korea. It is also played by Asian immigrant communities in the United States, Australia, and Europe. In some locations, mahjong is a leisure activity, but, in others, mahjong is seen as a professional sport with championship play.
Mahjong Online
Mahjong is, by its very nature, a difficult game to adapt to online play because of the many variations it has. However, the developer of Mahjong Club, who grew up with the game, has designed it for online play.
While there are other sites online that offer mahjong, this website offers four different types of play. They include Riichi and Sanma, which are usually played in Japan, and Hong Kong and Taiwan role-playing, which can not only be played in those two locations, but also in the United States, Canada, and Australia.
One of the most interesting parts of online mahjong adapted from traditional mahjong is that in order to increase betting on the game, online gaming sites have developed tournaments where bets are placed not only on each round but also on the results of each tournament.
Both daily games and weekly games are available. Plans are also in development for high-roller buy-ins for mahjong online, much like the high-roller gaming tables in poker tournaments, not only at land-based casinos but online as well.
In addition to the availability of online mahjong games in four different rule sets, there is the potential for players to use cryptocurrencies to bet and receive payouts. While the notion of using cryptocurrency as a form of betting is relatively new, it is also how many gamblers want to be paid, and through different platforms, the way people from many different countries can get paid no matter where they are and what form of currency they use.
While mahjong online play is still in its infancy, it taps into a market of millions of players. And, the market for online mahjong revenue is estimated to be in the hundreds of millions of dollars at minimum worldwide.
Disclaimer: All images are copyright to their respective owners and are used by USA Online Casino for informational purposes only.