In light of Japan's recent decision to issue three licenses for integrated casino resorts across the country, the world's major casino operators are actively engaged in wooing prominent Japanese officials and decision makers. In other words, let the luxury lobbying begin.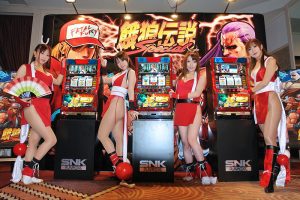 At the end of July, residents of the Japanese city of Osaka, one of the possible locations for the new integrated casino resorts, were treated to a spectacular fireworks display at the end of Japan's best known festivals all thanks to the fine folks at Melco Resorts and Entertainment Ltd, a Macau casino operator owned by Lawrence Ho, the 41-year-old billionaire who only hours before had been shaking hands with the governor of Osaka after making a hearty donation to the city's natural disaster preparation fund.
At the same time the head of global casino giant MGM Resorts International, CEO Jim Murren, was also in Osaka entertaining around 100 prominent guests on a luxury yacht with the Blue Man Group performing to the onboard VIP crowd.
Osaka city officials and prominent business men are being courted in large part thanks to the perception that both local political support and a solid business infrastructure make Osaka, a city of some 2.7 million souls located in western Japan, the ideal place for the first integrated casino resort.
"Tokyo has not raised its hand, Yokohama has not raised its hand – Osaka has raised its hand," said Ed Bowers, MGM's executive vice president of global development, speaking to Reuters.
Morgan Stanley has estimated that the Osaka casino could generate up to $4 billion per year in revenue, meaning the big boys, including Las Vegas Sands Corp, Caesars Entertainment Corp, Genting Singapore Ltd, and Galaxy Entertainment Corp, as well as Melco and MGM, are all battling it out in the battle of influence to pick up the golden ticket.

Focus on tourism
Osaka has long lost out to booming Tokyo when it comes to major corporations' cities of choice, having seen its power and wealth diminished over the years as Tokyo's prosperity bloomed. Governor Ichiro Matsui, has told Reuters that his focus for the future is on transforming Osaka into a thriving tourist destination with casino gambling being one of the draws for tourists from across Asia.
"I want to properly nurture the tourism industry in Osaka as one of its pillars," Osaka Governor Ichiro Matsui told Reuters.
According to the Reuters report, casino executives have been going all out, waging elaborate campaigns to garner public support for their brand, easing local business concerns and winning over local officials.
With so much at stake, the potential for corruption lurks in the air and Osaka officials, keen to present the city as squeaky clean, have reiterated the ban on city officials accepting gifts or attending parties. The city has even gone so far as to ban the meeting of city officials and casino operator representatives while alone.
Operators, however, have been keen to flash their wallets, with Melco, Sands and MGM all publicly saying while the Japanese government was debating the law that would allow casino licenses to be issued, that they would be willing to invest up to $10 billion to be able to open their own resort.
Osaka hopes that the integrated casino resort could be built in a man-made island called Yumeshima on the city's waterfront. Once the home to countless factories and shipyards that rose out of the industrial boom of Osaka in the 1970s, the area has long since fallen into neglect and city officials have tried in vain to find ways to resuscitate the dying waterfront area.
On top of that, Osaka's drive to boost tourism has already seen significant results, with over 11 million people visiting the city last year thanks to its thriving culinary scene and nearby attractions. The regions major casino players, thrilled by the astonishing success of neighbouring Macau, have been chomping at the bit to get a piece of the Japanese market.
"This is the greatest opportunity of my lifetime," Melco's Ho told Reuters by phone.
Endless lobbying
And the race is definitely on. According to official records, Governor Matsui met with senior executives from 11 different casino operators for some 25 'courtesy calls' from 2012, when legalizing gambling in Japan was first discussed, until May 2018. Less senior officials and other casino related business representatives have met with city officials 119 times since May of last year alone.
So far, it seems Melco has taken the lead in the battle for public opinion and official support. The donation Ho made to the disaster prevention fund, rumoured to be around $450,000 was definitely not the companies first attempt to garner local favour. After an earthquake killed four people last June, Ho and Melco made another donation to assist earthquake victims and those who suffered from devastating flooding across parts of western Japan a month later.
The recent donation and meeting with the governor that coincided with the Melco sponsored fireworks display was explained away as a mere coincidence.
A hard sell
Unfortunately for the regions biggest players, Osaka residents themselves are less than enthused about the prospect of a major integrated casino resort in their own backyard. According to recent polls, 42% of local residents oppose the casino with less than one in five residents actively in favour.
To counter the resistance, amid the lobbying and public relations frenzy orchestrated by the major casino operators, local officials have been conducting public seminars to soft sell the message of prosperity. The casino is expected to create up to 80,000 local jobs, from construction to hotel and casino floor staff.
Opponents, however, like professor Teruo Sakurada of Osaka's Hannan University, point out that the vast majority of the advertised future positions would be low-paid part-time work.
"They want tourism and foreign demand to drive the local economy, but this isn't a sustainable model," he told Reuters.
Disclaimer: All images are copyright to their respective owners and are used by USA Online Casino for informational purposes only.