The Marriot Resort and Casino chain has unveiled ambitious plans to create a Marriott casino in Las Vegas.
With a projected date of completion looking likely to be the end of 2020, this grand plan is sure to be well-received for those who regularly come to one of the world's largest and popular casino cities.

The Plans So Far
Current proposals state that Fontainebleau, which is one of Las Vegas' tallest buildings, is the building that will house Marriott's extensive expansion plans. This building is still only partially built. It suffered many setbacks with its previous owner, one of which was what to do with the property.
The building will now be the site for the new project. It will be renamed The Drew when it opens. Experts are already predicting that such a move will herald a landmark property purchase for the owners of Marriott International.
What to Expect from The Hotel Experts
There's no denying Marriott is an expert in creating and managing successful and profitable hotels. In fact, the company owns and operates properties all over the world. However, the industry is more interested in seeing what else the company can offer to the Las Vegas Strip.
There have already been 4,000 rooms and suites allocated, and more than 50,000 square feet has been selected for convention and meeting space. With a substantial number of 100 million-plus loyalty members already signed up to the Marriott brand, developers are hoping all the members will continue to be impressed by Marriott's expansion.
An Integrated Resort and Casino with A First-Edition Hotel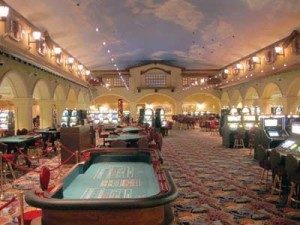 Although much has been spoken of about the type of hotel Marriott will look to implement in this new venture, not much of the plan for the casino has been disclosed. Industry experts have yet to offer their thoughts on the possibilities of Marriott entering into this vast and extensive gambling market.
Marriott is routinely mentioned as one of the world's innovative groups in the hospitality industry, and past performance sure indicates the company would have no problem in successfully operating its very own hotel on the Las Vegas Strip. However, the question remains whether such hospitality skills can be transferred to the often cutthroat world of gambling.
While having an immense loyalty program is all well and good, if Marriott is to conquer the casino market in a city where the world is watching, it may need to consider devising and offering plans quite quickly to the gaming industry. The company needs to state its intentions for the casino element of this enormous project.
What Can Marriott Bring to The Strip?
With plans for the build only recently being confirmed and announced, it now remains a waiting game to see what Marriott can come up with to firmly establish itself as the one to watch on the famous Las Vegas Strip.
So far, it would seem that its predominant aim is to target its ongoing and loyal customer base and work out from this point. The company has undoubtedly worked hard to achieve its reputable and established customer base, so this may just be the strategy it needs to begin building its casino from the bottom up.
Although Marriott may already have experience managing more than 20 popular hotels in the area of Las Vegas, which are all under its various brands, the decision to implement a casino will be a first for the company.
Industry experts are hoping the company will be able to transfer its impressive financial and business acumen by implementing a casino model that is as successful as that of its hotel operations.
Disclaimer: All images are copyright to their respective owners and are used by USA Online Casino for informational purposes only.