Casino giant MGM Resorts International has recently announced that the company has signed a multi-year landmark agreement to function as the first official sports betting partner of the National Hockey League.
The NHL will work as an auxiliary to provide the casino with data for use in betting, thus marking the second major U.S. professional sports league to perform business with a casino entity since the United States Supreme Court legalized sports betting in a historic ruling earlier this year.

Making waves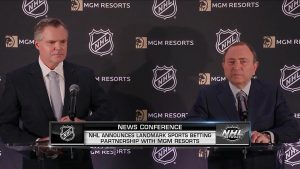 The new deal will give MGM International and its affiliates, access to information owned by the NHL with what is referred to as 'puck and player tracking' information once a demonstration phase is completed.
This valuable information will allow MGM to provide customized game details for U.S. customers looking to get an edge in sports betting in states where it is allowed.
Furthermore, MGM Resorts International can now market its products services via NHL media platforms and developments what the company deemed an interactive agreement intended to 'amplify the relationship' across a range of its land-based and digital gambling.
This platform also gives MGM access to the NHL fan database, and will be extended to some 31 million of its "M" loyalty card members.
Promotional opportunities
Chairman and CEO of MGM International, Jim Murren, called the agreement a 'historic partnership' and added that he was very excited for his firm gain entry to a range of new promotional opportunities.
These include signature events such as the Stanley Cup Final and the NHL All-Star Game in addition to the regular hockey season.
He added, "The NHL is home to some of the most exciting action in sports and we are thrilled to join with it to create new immersive and exhilarating experiences for hockey fans. Combining MGM Resorts International's world-class sports betting operations and technology with the NHL's top-level competition, iconic brands and cutting-edge data will further transform the rapidly growing sports betting marketplace and solidify our position at the forefront of the industry."
A new landscape
When pressed for comment, NHL Commissioner Gary Bettman stated that MGM Resorts International was 'the perfect partner' for the league, and declared the new landscape of sports betting "a unique opportunity for fan engagement".
While MGM will receive proprietary NHL data on its players and games, the data released will not be exclusive to the gambling giant.
MGM International is not the first U.S. sporting league to capitalize rapidly on the new sports betting market, the NHL is simply following suit after previous multi-year deals were made with the NBA and WNBA.
Bettman and MGM Resorts Chairman and CEO Jim Murren said the NHL's agreement differs from that with the NBA.
Implementation
MGM's new deal is said to begin in the 2019-2020 NHL season, and Bettman added that the NHL Players' Association would split revenues generated thanks to the arrangement.
In a recent study, the American Gaming Association (AGA) estimated that expansion into sports betting could increase the league's revenue by nearly a quarter of a billion dollars in years to come.
NHL officials also added that MGM deal would not restrict their teams from striking individual deals with other sports booking entities. Just earlier in 2018, world-renowned bookmaking giant William Hill formed agreements to post odds at the arenas of the Vegas Golden Knights and New Jersey Devils.
Such data and analytics in reference to sports bookmaking will allow operators to make more concise odds with the help of puck and player tracking.
Growing concerns in an emerging market
Concerns over the integrity of the game, especially in reference to the potential for players "throwing" games were shot down by NHL Executive VP & Chief Revenue Officer Keith Wachtel.
He stated in a press release, "We've never had an issue [of foul play]. Secondly, the integrity of the sports betting landscape is just as important to the bookmakers, which is why the NHL does not have a discussion and we don't talk about this notion of integrity fees."
Bettman further added that all NHL games are monitored through "third party resources" to ensure that fair play is at the absolute center focus.
The new MGM deal could expand NHL sports betting to as many as 30 different states in the U.S., excluding seven teams from Canada. In conjunction with the league, MGM looks to expand its efforts to all North American territories, thus making way for an emerging market.
Disclaimer: All images are copyright to their respective owners and are used by USA Online Casino for informational purposes only.