Senate President Dominick Ruggerio stated, "I am hoping we can get up and running relatively quickly" concerning sports betting in Rhode Island. Ruggerio made this statement after Senate approval in the development of e-betting.
The motion to venture into online sports betting recently went through the Senate, even though many were concerned that the new regulations will make problem gambling worse. Those who are opposed to virtual sports betting also say that this form of gambling could create a monopoly, which could prove to be too expensive for the state.
Ruggerio continued by saying "…I think there is going to be a lot of people who will support online gaming because I think it will be most convenient…I'd like to see it passed quickly so they can start implementing it and they can get revenue this fiscal year."
The vote in favor of online sports betting was 32-4, which moved the proposal for online gaming to the House. Speaker Nicholas Mattiello introduced a mirror variation of Ruggerio's; a hearing for the mirrored bill is scheduled soon.
More on Ruggerio's Bill
Ruggerio's bill is similar to the language of Governor Gina Raimondo's plan for Rhode Island's budget plan. The plan would allow citizens to bet on sports games from anywhere in the state using an online platform or app commissioned and regulated by the Rhode Island Lottery.
Those who wish to gamble must create an account in person at one of the two Twin River's casinos in Tiverton and Lincoln before they are permitted to use the online gambling app. The computer servers supporting the app will have to be at a Twin River location.
Along with the sports gambling profits from Twin River casinos, the state will also receive 51 percent of all revenue from online gambling. Twin River gets 17 percent. The organization running the digital platform will earn 32 percent.
Gambling Bill Opposition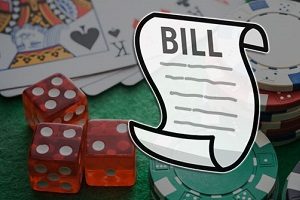 Raimondo' budget proposes that revenue for sports betting will be about $3 million. The earnings will likely come from online wagers next fiscal year. This is assuming that the app will not be up and running until around six months into the year.
The entire no' votes were from Democrats, who opposed the bill for a variety of reasons. The voters were Senator Louis DiPalma from Middletown, Dawn Euer from Newport, and Harold Metts and Sam Bell, both from Providence.
Bell stated, "By passing this law, we would be giving a monopoly on sports gambling to Twin River. This is America. We are supposed to be a free market economy where we have a free market with competition. Why can't we instead set up a real online gambling market where new businesses start where we can have competition and a bunch of different companies to offer the best possible online gambling product?" Bell also stated that voters should have the opportunity to approve online sports gambling. He also said that if the online law were passed, he would not be shocked if the bill was challenged in court.
IGT, based in Providence, was the only contract bidder to run the states sportsbook in Twin River. IGT's responsibilities would include setting betting odds and running back-end technology for gaming apps and online platforms.
Fantasy sports site DraftKings also suggested Rhode Island creates a platform that is similar to the current online betting market in New Jersey in testimony to lawyers. DraftKings is one of several companies in New Jersey, offering online gambling to sports enthusiasts and online gamers. DraftKings asserts that restricting gamblers to one app and requiring them to sign up at a casino in person could prevent Rhode Island from reaching its full potential in a market that is overtaken with illegal international websites.
Future Projections
Following the vote, Ruggerio stated that he was open to permitting more gambling sites to get involved. However, for right now, he is focused on getting virtual gambling up and running as soon as possible. It's not yet clear whether the Rhode Island Lottery could re-bid for a company to create the gambling app or implement multiple apps for the convenience of its residents.
Disclaimer: All images are copyright to their respective owners and are used by USA Online Casino for informational purposes only.