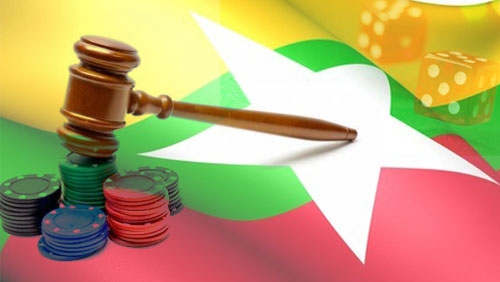 The southeastern Asian country of Myanmar, formerly Burma, bordering China and Thailand, is making way for new land-based gambling developments in the country. Gambling, which was once illegal, is now allowed for land-based casinos under strict government regulations.
However, despite the relative receptiveness to land-based gambling venues, the officials of Myanmar still consider online gambling a bane for the country, as rampant corruption and unregulated consumer protections continue.
In early of May of this year, Myanmar state officials reasserted that private telecommunications companies refrain from cooperating with online gambling operators, and those involved do so at their own risk. The Ministry of Transport and Communication's Department of Post and Telecommunications (DPT) issued a statement informing telecom providers in the country that "if they break the rules, they will be shut down" without exception.
This announcement comes only a month prior to the start of the 2018 FIFA World Cup, when country officials are expecting to see a surge in illegal online sports betting.
An open letter signed by DPT leader Soe Thein, also voiced concerns over the online poker game known as shan koe mee. Thein merely added that telecommunications companies dealing in illegal online gambling would not be tolerated by the State.

Cause for concern
In the past, Asian governments have shut down illegal online betting operators during quadrennial football tournaments, which would include the likes of the FIFA World Cup and Champions League games.
Interpol among other global regulators have helped Asian governments crackdown on multiple illegal gaming operations throughout the south of the continent, which have resulted in hundreds of arrests linked to criminal organizations, as well as millions of dollars from seizures of illegal gambling money.
Myanmar suffers from various forms of illegal online gambling, with the most popular of these being card games and sports betting online. Although the state allows land-based casino gambling and state-sponsored lotteries such as the Aungbarlay Lottery, online gambling has become more difficult to regulate.
Most gamers play using a system of online and mobile device "top-ups", which have over time been tied to corruption. Investigations conducted by Chinese authorities have also revealed reports of Thai sports bookers that in the past had set up illegal gambling operations across the border to Myanmar along with illegal lotteries.
A rocky past
Myanmar has had a long history of corruption in gambling. The most famous case is that of the town of Mong La, near the South Chinese border, which remains a popular gambling destination for Chinese citizens. Chinese residents, who cannot gamble in their home country, often cross the border to Mong La for gambling excursions.
Not long ago, it was revealed by government officials that the casinos of Mong La were rampant with corruption; funding everything from drug trafficking to money laundering. The government issued for tighter regulations and harsher punishments following crackdowns.
The incident that raised national attention occurred in 2003, and involved the daughter of a Chinese central official who lost over $168,000 in a weekend gambling trip; five corrupt casinos from the region were named regarding an official report involving a sting operation.
In 2012, China cut off telecom services to Mong La to eliminate online gambling, but operators installed satellite dishes to counter the efforts.
Evolving regulations in an emerging market
In 2011, Myanmar, which long suffered from brutal military rule—transitioned to a more democratic government.
Earlier this year, Myanmar's officials stated that the government was contemplating revising the Burma Gambling Act to allow for foreigners-only casinos within the country as a means of reviving the fledgling tourism sector.
Macau, the world's single largest gambling destination, and its casino operators have even expressed interest in testing the waters of the evolving gambling market of Myanmar.
Online gambling is currently experiencing a meteoric rise in popularity worldwide. Experts estimate that the combined revenue from online gaming could surpass the $100 billion mark by the end of 2020, which includes online gambling.
The rapid development of mobile technologies coupled with faster internet speeds and more reliable access to wireless internet will only encourage emerging online gaming companies, legal or illegal, to push past tighter restrictions to reach a broader gambling audience. Player participation and returns are also at an all-time high, further encouraging online operators to capitalize on a global trend.
Disclaimer: All images are copyright to their respective owners and are used by USA Online Casino for informational purposes only.