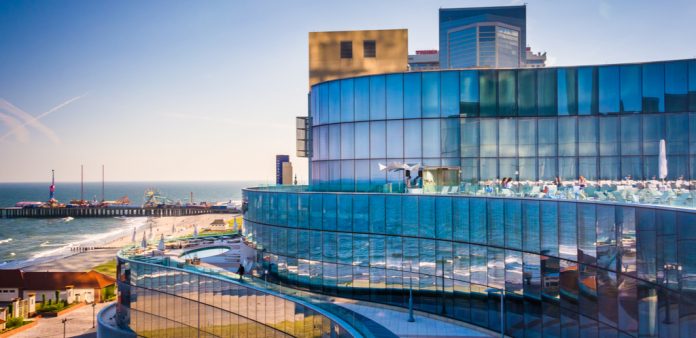 Ocean Resort Casino, one of Atlantic City's newest and most luxurious casinos, and Topgolf, the global sports entertainment leader, are set to bring the massively popular virtual golf game, the Topgolf Swing Suite, to its largest incarnation on the famous Boardwalk this summer.
The casino is the tallest building in Atlantic City. Formerly the Revel Casino Hotel, it was purchased by AC Ocean Walk LLC for $200 million earlier this year and rebranded with its current name. Situated on 20 acres of prime real estate along the famed Atlantic City Boardwalk, the casino has 1,399 rooms with fantastic views of the Atlantic Ocean. When complete, it will feature five swimming pools, a cabana-filled sundeck, and meeting, dining, and entertainment venues. The casino is a part of The Unbound Collection by Hyatt Portfolio.
Topgolf Swing Suite is an immersive virtual reality experience that offers players and guests a comfortable lounge in which to play virtual golf games while relishing fine food and beverages of their choice. Featuring a massive screen and a wide selection of exciting games, the Topgolf Swing Suite delivers fantastically lifelike simulations that everyone can enjoy.
Launched in 2017, Topgolf Swing Suite quickly caught the imagination of people across all walks of life and became a popular attraction at casinos, luxury hotels, fitness centers, sporting events, and entertainment venues across the United States. Guests can book a Topgolf Swing Suite or simply walk in at all kinds of social and business gatherings, such as birthday parties, bachelor/bachelorette parties, and corporate events.
The popularity of Topgolf Swing Suite can be gauged by what Kent Bazemore of the Atlanta Hawks has to say about it (paraphrased): "My first love is basketball, but my favorite hobby is Topgolf."
The Ocean Resort Casino Topgolf facility will have 11 golf-simulator bays, virtual putting greens said to be the first of their kind, each with a 16-foot-wide video screen, inside a 26,000-square-foot facility. In addition to virtual golf games, the Topgolf Swing Suite will feature a wide range of other multisport games for golfers and nongolfers. Each bay will have a lounge equipped with HDTVs where up to eight people can play, eat, and hang out while enjoying the breathtaking views of the Boardwalk and the Atlantic Ocean.
AC Ocean Walk chairman Bruce Deifik said no details were overlooked while developing the Ocean Resort Casino. He said the company was aligned with other companies and brands that are the best in their respective fields, and Topgolf is among the very best in terms of delivering state-of-the-art entertainment and social experiences. AC Ocean Walk is the owner of Ocean Resort Casino.
Topgolf Swing Suite President Ron Powers said the Ocean Resort Casino Topgolf Swing Suite will be truly one of a kind in the entertainment and gaming industry. Guests can use the lounge to have a viewing party for the Grammys, Oscars, and Super Bowl, he said. He added it was a matter of pride for his company to partner with the owners of Ocean Resort Casino to make this exciting and interactive gaming experience available to the people of Atlantic City.
Powers did not specifically say how much the project cost, but he did say the company is spending at least $100,000 per bay. Topgolf has been running eight such facilities nationwide. The one in Atlantic City is the newest and the largest so far. The company is planning to open many more across the United States in the future.
Current Topgolf Swing Suite locations include the Four Seasons Hotel in Houston; Lynx Fitness Club in Boston; MGM Grand Detroit in Detroit; Foxwoods Resort Casino in Mashantucket, CT (coming soon); Philips Arena in Atlanta (coming soon); Atlanta Sports City in Stonecrest, GA (coming soon); Riverside Casino & Golf Resort in Riverside, LA (coming soon); MGM Springfield in Springfield, MA (coming soon), Ocean Resort Casino in Atlantic City, NJ (coming soon); and Drivers Club Redmond in Redmond, WA (coming soon).
Disclaimer: All images are copyright to their respective owners and are used by USA Online Casino for informational purposes only.