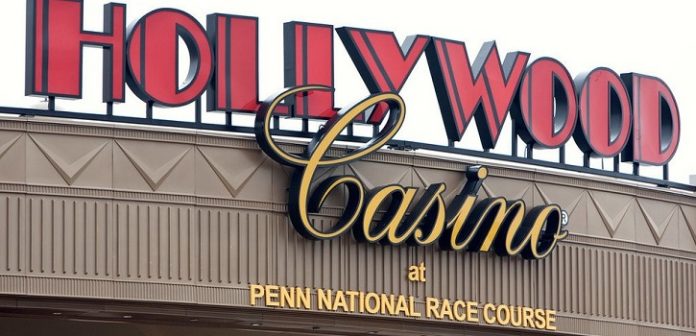 Local officials have approved the first satellite casino in Pennsylvania. After the recent Caernarvon Township Board of Supervisor's meeting where the vote was unanimous, Penn National Gaming can now move forward with their plans to build the Hollywood Casino in Morgantown.
More about the Casino
The Hollywood Casino will be 36 acres and located at the intersection of the Pennsylvania Turnpike and Interstate 176. The satellite casino plans include 30 table games and 750 slot machines, along with an entertainment venue and several restaurants.
Several people attended the Pennsylvania Gaming Control Board hearing to discuss Penn National's plans. Several citizens voiced their opinions about the casino, stating that they did not want the business in Pennsylvania. Township supervisors felt that the financial and economic benefit of the casino was too significant to ignore.
Hollywood Casino Morgantown is expected to bring an astounding $94.3 million in the local economy. The casino is also expected to create 255 construction jobs and 259 permanent casino positions. Caernarvon is scheduled to receive $1.6 million a year in taxes.
Legal Regulations for the Casino
Penn National still has to get signoffs from the Pennsylvania Department of Environmental Protection and Berks County Conservation District. Satellite casinos got their name because they are essentially smaller gambling extensions of a primary property already owned by a gaming operator.
Penn National was not happy when Pennsylvania passed its gaming expansion package in fall 2017. Pennsylvania's oldest gaming operator sued on the grounds that Category 4 authorizations, which is a designation for the satellites, would unfairly hurt business at Hollywood Casino in Grantville near the Harrisburg capital.
Penn National eventually dropped the case against the state of Pennsylvania and began bidding on satellite auctions. Penn won the first round with an offer of $50.1 million and chose a 15-mile radius in York County. Later, Penn National obtained a second Category 4 site with a bid of $10.5 million. This site became the Morgantown casino location.
Why Did Penn National Choose Morgantown?

Morgantown is in a high-traffic area, since Reading, the fifth most populated city in Pennsylvania, is only 20 minutes north on I-176. Philly Main Line, which is densely populated and affluent, is half an hour east and Lancaster is 40 minutes west.
Along with York County, which is in south-central Pennsylvania, Reading, Lancaster, and other central-eastern regions of the state are significant markets for Grantville's Penn Hollywood Casinos. The property is a full-scale casino with 56 table games and 2,450 slot machines; it will remain the most critical asset for the company in Pennsylvania.
Pennsylvania's Other Casinos
Along with the two satellite casinos run by Penn National, Greenwood Gaming, parent company to Parx Casino near Philadelphia, is devising a plan to bring a mini casino to Shippensburg, which is west of Harrisburg. Mount Airy Casino is also developing a satellite location 30 miles north of Pittsburgh, and Stadium Casino LLC, owned by Cordish Companies, is devising plans for a gambling venue in the Westmoreland Mall, about 45 minutes from Pittsburgh.
In addition to the satellites, Pennsylvania has legalized video gaming terminals at several truck stops. The terminals are also available at some airport gaming lounges, as well as daily fantasy sports, sports gambling, and online casinos.
Along with the satellites, Pennsylvania has legalized video gaming terminals at certain truck stops, airport gaming lounges, online casinos, and daily fantasy sports, and sports betting.
Pennsylvania will quickly see whether the expanded gambling offerings will increase gaming in the state overall or take money from existing casinos and gaming facilities. The state has 12 land-based casinos, which won a total of $3.248 billion in 2018; this is a $22 million increase from 2017.
Disclaimer: All images are copyright to their respective owners and are used by USA Online Casino for informational purposes only.