According to research, the total amount spent 'gambling' on the stock market is more than triple the amount spent in casinos, online gambling, and lotteries combined.

The Study
Three researchers from universities in Miami, Vietnam, and Sydney published a study concentrating on the aspects of gambling on 'hot stocks' and who is making riskier trades on the stock market.
Market experts define the difference between gambling and investing as a function of investor intent. Therefore, it is normally impossible to directly measure how much literal gambling goes on in the stock market. Until now.
By focusing their research on so-called lottery stocks, the researchers were able to determine that the behavior of casino gamblers and those who bet on lottery stocks are the same. However, the lottery stock investors spent 3.5 times more money than casino gamblers.
Lottery stocks are defined as stocks that have low prices, high volatility, and positively skewed return distributions. Much like your average slot machine, these stocks have a small probability of a huge payoff.
An example of a lottery stock is a promising new tech company just entering a questionable market. Nobody knew about the potential for online streaming when Netflix (NFLX) hit the market. People had slow internet, data transfer caps, and poor computer specs. HD movie streaming seemed like science fiction at the time. So, at the time it went public, the young streaming upstart would qualify as a lottery stock.
But once a stock becomes a household name, like Netflix has done, it has a much higher price and a much lower volatility. Therefore, it is no longer a lottery stock.
Investor Intent
A seasoned stock market player will tell you that there is no gambling involved at all. Every trade is a calculated move, thoroughly researched, thought out, and executed, based on a wide variety of variables. A professional poker player will tell you the exact same thing.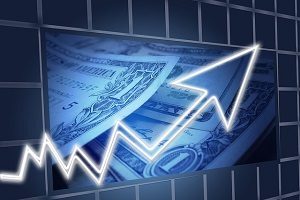 How the researchers confirmed the stock gambling activity was equally interesting. When certain countries imposed restrictions on traditional gambling, trading activity in lottery stocks jumped. When the same restrictions were relaxed, lottery stock trading also fell.
The researchers also found that lottery stock gambling has a positive effect on the market:
"Stock market gambling increases the amount of information that is reflected in prices, increases measures of informational efficiency, and reduces measures of noise in prices," the study asserted. "Therefore, even if gamblers are relatively or completely uninformed traders, they can still contribute to market efficiency by making markets more liquid and thereby encouraging informed trading."
Disclaimer: All images are copyright of their respective owners and are used by USA Online Casino for informational purposes only.