Despite the fact that nearly all of Atlantic City's land-based casinos posted significant declines for September, year-on-year the gambling mecca by the sea reported growth of 7.7%, according to the New Jersey Division of Gaming Enforcement (DGE).
September revenues for all of Atlantic City's casinos came in at $232 million, a far cry from the $270 million pulled down in August but still solid year-on-year growth nonetheless.
Both slots and table games saw substantial growth in September, with slots pulling in $166.8 million, up 8.6% year-on-year and table games coming in at $65.2 million, up 5.5% over the same period last year.
For the first nine months of 2018, Atlantic City's land-based casinos posted overall gross gaming revenue of $1.89 billion, up 2% year-on-year, with total slots revenue for the year to date coming in at $1.36 billion, up 3.3% while table games for the year were down 1.3% to hit $528.5 million.
Overall casino revenues for the month, including online gambling and sports betting revenue, reached a high of $272.2 million, thanks to $14.5 million in sports betting revenue and $25.7 million in online gambling revenue.
However, out of seven casinos, six reported a decline in year-on-year revenue for the month of September with only the Tropicana posting meagre gains of 0.05% to pull in $29.9 million.
On the other hand, the Borgata, long Atlantic City's leading earner, chalked up $60.5 million for the month, down 13.5% from September last year. Harrah's was down slightly more, tabling a 13.7% decline to hit $27 million in revenue and Caesars took a substantial hit, down a stunning 23.2% to pull in $22.9 million for the month.
The City's other casinos didn't fare much better, with the Resorts down 11.2% to come in at $15.8 million, Bally's down 6.5% to hit $16.6 million and the Golden Nugget down 3.2% to post a scant $18.3 million in September revenue.
Both of Atlantic City's newest venues, the Hard Rock Atlantic City and Ocean Resort Casino posted a third straight month of declining revenues. The Hard Rock Atlantic City saw $25.9 million in revenue, it's lowest showing since opening its doors to the public in late June. The Ocean Resort Casino was down almost $5 million from August to post $14.9 million in gross gaming revenue.
The question remains as to whether the City's two new venues are effectively cannibalizing revenue from other land-based operators or whether the slide in September revenues was simply a result of the enthusiasm gamblers have shown for newly legalized sports betting as well as mounting interest in online gaming.

Sports betting soars in popularity
According to DGE, sports betting numbers rose precipitously in September to nearly double month-on-month. State wide, gamblers put down almost $184 million on sports bets, up from $96 million in August.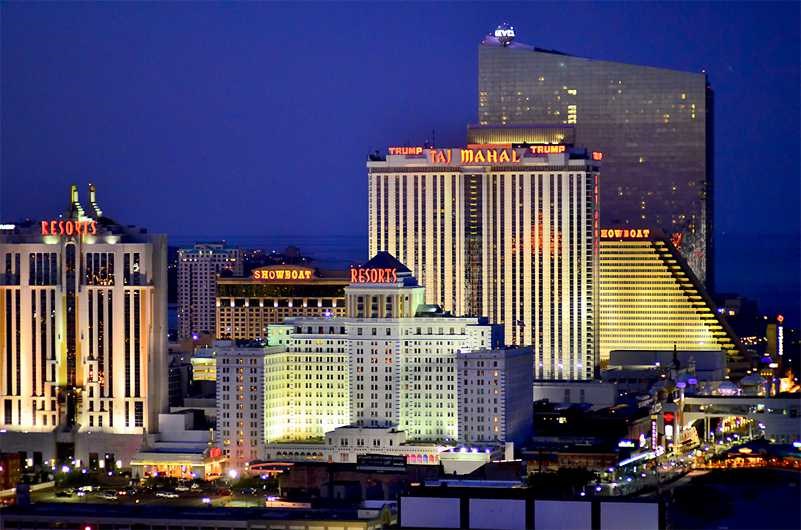 By way of comparison, Nevada sportsbooks, the nation's oldest, saw some $247.6 million in August revenues this year.
Since the doors were opened to sports betting in New Jersey mid-June, after the U.S. Supreme Court overturned the Professional and Amateur Sports Protection Act to pave the way for legalized sports betting across the country, state residents have put down some $336 million in sports bets, in what analysts expect is likely to be a $150 billion market nationwide.
In terms of land-based casino sports betting revenue, the Borgata saw $2.5 million, the Ocean Resort $1.3 million and the Golden Nugget $1.1 million.
The state's main winners in terms of sports betting revenue were Resorts Digital, the online subsidiary of Resorts Casino in partnership with DraftKings, which saw a solid $8.5 million in September sports betting revenue, followed by the Meadowlands Racetrack, where a FanDuel sportsbook pulled in $7.2 million for the month. Monmouth Park, who partners with online sportsbook giant William Hill, pulled down a reasonable $2.2 million.
Online gambling continues to grow
Meanwhile, online gambling also hit new highs for the month, despite online poker revenue sinking to new historic lows.
DGE statistics for September showed the state's licenses online gambling operators post a combined $25.7 million for September, up $1 million from August and coming in just $150,000 shy of the all-time online gambling revenue high set in July.
Year-on-year online revenue gains were up a staggering 30.6%, even as online poker saw a steep drop of 15% year-on-year to pull in a tawdry $1.6 million, an all-time low.
Thus far for the year, state wide online gambling revenues are looking good, in at $216 million, up 17.6% year-on-year.
The Golden Nugget led the pack in online gambling revenue, coming in at $9.28 million, just off its all time high of $9.33 million in July. Coming in a distant second was the Borgata, with $4.56 million, followed by Caesars Interactive Entertainment New Jersey at $4.16 million, Resorts Digital Gaming with $3.43 million, and the Tropicana at $3.34 million.
Both the Hard Rock Atlantic City and Ocean Resort Casino, the City's two newest venues, brought up the rear to come in at $649,000 and $324,000 respectively. Ironically, the Hard Rock's figures showed just over a one-third month-on-month improvement, while Ocean Resort was down by a shocking 16%.
Disclaimer: All images are copyright to their respective owners and are used by USA Online Casino for informational purposes only.