The newly elected governor of South Dakota has wasted no time declaring how she feels about sports gambling, as well as gambling in general. In fact, the governor has made it clear that she wants no new gambling projects in the state, which has put her at odds with some business owners in her state. While Kristi Noem has not said she would abolish gambling, her stance on gambling has some owners worried about the future of gambling, and tourism from gambling in the state.
Biography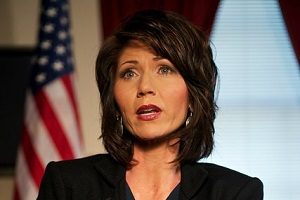 Noem is a native of South Dakota. She was raised on her family's farm and ranch in Watertown, South Dakota. She was a sophomore in college when her father died in a farming accident. She dropped out of college, got married, and began working on the family farm to save it from the large IRS bill her family had to pay when her father was killed. She and her brothers and sisters managed to save the farm, and have since opened up a lodge for hunting season, as well as a restaurant. She did graduate with a bachelor's degree, after years of online classes. Noem spent eight years in the House of Representatives before deciding to run for governor. She is a Republican.
The State's Economy
South Dakota has one of the smallest economies of the United States. It ranks 45th out of 50 states in terms of its output. The state has relied on service industry jobs, such as at Citibank and health care industries. Government spending has also been important, as the second-largest employer in the state is Ellsworth Air Force Base near Rapid City. In fact, 10% of the state's GDP comes from government spending in the state. Agriculture is also very important, and the state makes a lot of money from the production of ethanol.
Tourism and Gambling in South Dakota
One of the fastest-growing segments of the economy in South Dakota is tourism. While it may not come to mind at first, tourism is one of the biggest draws in the state. Many people go to South Dakota to see the natural beauty of the state, such as the Black Hills area and Mount Rushmore. Deadwood, and the legends surrounding the Old West, is also a very popular draw. In addition, South Dakota draws almost as many people for the Sturgis Bike Rally as live in the entire state. Tourism accounts for over 33,000 jobs and $2 billion in state economic dollars.
Gambling in the state is set up around the areas of the state where tourists are likely to be. South Dakota has 42 casinos, racinos, and tribal casinos in the state. More than half are in the Deadwood area, while the others are strategically located near Sturgis, Mount Rushmore, or the Black Hills. There are also two horse tracks, and one off-track betting site in Sioux City.
Because so much of the state's economy is tied up in tourism and gambling, many South Dakota legislators want to make sure that they are getting as much from gambling as possible. Legislators have proposed Senate Joint Resolution 2, which is a proposal to let South Dakota voters decide for themselves whether or not to legalize sports betting at the Deadwood and tribal casinos.
However, the governor and other members of her cabinet are not excited about the idea of adding more gambling revenue. She has said that as governor, she has concerns about whether or not additional gambling is good for the state. Noem said that government resources must be used to regulate sports gambling, as well as provide resources for families affected by problem gambling. In the end, she said, sports gambling may not be worth the gamble.
Disclaimer: All images are copyright to their respective owners and are used by USA Online Casino for informational purposes only.