The cat's out of the bag. In wake of the U.S. Supreme Court decision earlier this year overturning the ban on sports betting and effectively leaving the legalization of sports betting up to individual states, state after state is has been lining up to push through legislation to get in on what analysts forecast to be a market worth some $8 billion. Rhode Island now seems to be the next in line.
Earlier this week Rhode Island Senate President Dominick Ruggerio told local media outlet WPRI-TV that he plans to introduce a bill that will authorize mobile sports betting across the state. He added that the plans are still in the works and that he expects to submit his draft bill to the full Rhode Island senate in the legislative session set to begin early next year.
Were Senator Ruggerio to succeed with his bill, it would make Rhode Island the first state in the New England area to officially offer digital sports betting.

Tax revenue boost
Senator Ruggerio believes that allowing for mobile sports betting is a winning proposition for the small New England state, prediction successfully passing the bill would generate
hundreds of millions of dollars in yearly tax revenue. Senator Ruggerio told WPRI-TV that he expects legalized mobile sports betting would more than double the revenue the state is set to receive from sports betting alone, to generate approximately $50 million per year.
To underscore his point, a recent report by the consultancy firm Oxford Economics is even more optimistic, asserting that legalized sports betting in the Ocean State would produce some $1.1 billion in revenue per year, with state coffers pulling down approximately $80 million a year in tax revenue as a result. And this despite the fact that Rhode Island is tiny in size compared to its neighbours, with a population of just over 1 million souls.
The bill proposed by Senator Ruggerio would allow for Rhode Island residents and visitors to place their sports bets via their mobile phone anywhere in the state and what would technically be anytime.
Two sportsbooks already in operation
At present Rhode Island has two casinos offering sports betting. In hopes to getting in on the first floor of what is expected to be a stellar national market for sports betting, the Twin
River Casino was quick off the mark, opening its sportsbook at the end of November, with its sister company in Tiverton able to launch their sportsbook the following week.
Rhode Island currently has one of the highest tax rates in the nation for sportsbook revenues, collecting taxes on 51% of revenues after gamblers have been paid out. As a result, the state currently pulls in some $11.5 million in tax revenue from the two operational sportsbooks for the fiscal year set to end on 30 June 2019.
Senator Ruggerio has argued that the sportsbook revenues are good for the state's tax payers, generating substantial revenue that can be put towards renovating the states aging infrastructure and boosting the school system.
Rhode Island House Speaker Nicholas Mattiello told WPRI-TV that Senator Ruggerio's bill would "get a fair public hearing". House Speaker Mattiello has previously gone on record as stating that any consideration of mobile sports betting in the state would be "an idea worth a thorough review" as long as the plan both generates significant revenue for the state and enhances gamblers sportsbook experiences.
Concerns linger
Ruggerio's plan, however, is not without its detractors. Patrick Kelly, a Providence College professor who has been studying the issue for most of the last decade has said that mobile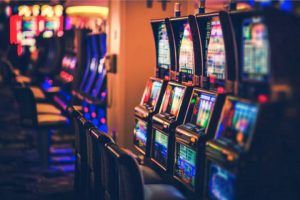 sportsbooks could provide problem gamblers with the ability to wager money anytime, anywhere, potentially unleashing a tragedy in the state.
Professor Kelly has also pointed out that in his opinion the state does not yet do enough to address the issue of problem gambling, with the state allocating a mere $125,000 per year, or 1% of what the state collects in taxes from legalized gambling, to programs designed to counter the problem.
Senator Ruggerio, for his part, has stated that he would consider allocating a larger proportion of the tax revenues generated from gambling to programs designed to prevent and treat problem gambling were his bill to go forward.
Disclaimer: All images are copyright to their respective owners and are used by USA Online Casino for informational purposes only.