Tennessee residents could soon have the ability to bet legally on their favorite sports teams in the state. A bill was recently passed to authorize this form of gambling. Representative Rick Staples wants to make sports betting legal in Tennessee, although most forms of gambling in the state are currently illegal. Therefore, there is no bingo in Tennessee, no sports books and no casinos.
Staples made it clear that "we're talking about Fantasy sports, we're talking about drag racing to auto racing; we're talking about football to basketball. When it comes to casino gambling and table gambling, the state of Tennessee is upwards of losing $3 billion dollars annually because of our neighboring states."
Legal Betting In the United States
Even though most gambling is still illegal in Tennessee, the Supreme Court opened the door for legal sports betting for many states by striking down the federal law implemented in 1992 against sports gambling. Staples asserted, "We have a lot of bordering states that already passed this piece of legislation."
States that are near the Mississippi, such as West Virginia and Mississippi provide legal gambling while other neighboring states, like Kentucky and Arkansas, have gambling laws that are currently in the works.
The proposal by the state of Tennessee would place a 10% tax on sports betting. The proposal would also permit local jurisdictions to decide whether they want to bet on professional teams in the state, like the Nashville Predators and the Tennessee Titans. Local regions will decide on sports betting legalization by voting.
Staples asserts that this is a new form of income for the state that does not include increasing taxes. He shares "a percentage that would go to K through 12 and a percentage that would go to a general fund; but for locals, they would have dollars that would go to education as far as career training and technical training."
The new gambling bill would also bring about the formation of the Tennessee Gaming Commission. The Commission would consist of nine members, and these members would be responsible for regulatory compliance and enforcement if the bill officially becomes  state law.
Betting Regulations State by State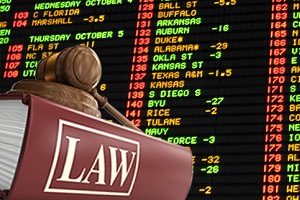 After the Supreme Court victory in 2018 that made sports betting legal in New Jersey, any U.S. state that wants to legalize sports gambling can do so.
Simultaneously, a number of state legislators are thinking about making sports betting legal in their perspective states, and so is Congress. Senators Chuck Schumer, D-N.Y., and Orrin Hatch R-Utah (retired) co-introduced comprehensive sports betting legislation at the end of 2018. In September of 2018, the House Judiciary Committee had a formal hearing concerning sports gambling. There were both federal and state proposals that have become more frequent since the beginning of 2017.
To measure the change in the gambling industry and legislation landscape, ESPN.com ranked all 50 states and DC to determine how likely it is for each jurisdiction to offer full-scale legal sports betting.
Nevada
Nevada is no longer the only US state to allow several types of legal sports gambling. The betting market has been around for years in Nevada, and some states may look to Nevada for guidelines in sports betting regulation. Nevada can even be seen as a hub and could make agreements with other states concerning line monitoring, risk management, oversight, and liquidity.
Tennessee
This state saw a new sports gambling bill that was introduced last November. The bill was titled the Tennessee Sports Gaming Act, and would permit sports betting if allowed during a local election. Staples said, "After the bill is formally filed in early 2019, it will be assigned to a specific committee. A hearing and potential vote could follow after that."
Disclaimer: All images are copyright to their respective owners and are used by USA Online Casino for informational purposes only.