Another former Wichita policeman has pleaded guilty to concealing an illegal gambling operation while still working for the department. This operation occurred in 2014.
Michael Zajkowski, 51, said he knew an undercover police officer was going to investigate the operation. But, instead of informing the police department about the illegal gambling, he notified one of his co-defendants, Brock Wedman. Wedman, who is also a former police officer, was one of the leaders of the illegal gaming operation.
After Zajkowski tipped off Wedman, Wedman asked him to check the license plate and VIN number of the officer's vehicle. Zajkowski confirmed that the information he had matched the officer's car. However, he did not mention the gambling to his superiors.
Wichita Police Department's Bad Rep
Wichita's police officers are getting bad reputations because they chose to protect the illegal gambling operation instead of reporting it. Gambling in Kansas is strictly controlled and there are only three casinos in the state. It has become very popular for people to hold illegal games in basements, warehouses, or in the back of bars. These games happen on both large and small scales and are actively infiltrated by undercover police officers. But what happens when the officers love gambling, too?
Does Zajkowski's Case Sound Familiar?
Zajkowski's case is very similar to that of another former Wichita police officer.
Last year, Bruce Mackey also pleaded guilty to being involved in the same operation. He also knew about the same undercover police officer and chose not to report the game to the authorities.
On Jan. 18, 2018, after the court indicted him and released his name, Mackey resigned from the force.
Because of this crime, Mackey will never be able to work as a police officer again.
It Doesn't Stop There … Mackey's Troubles Continue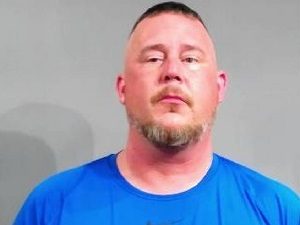 Mackey's criminal streak did not end there, however. He also faced three felony charges for criminal threat and two misdemeanor charges for domestic battery. The incident occurred on the night of July 4, 2018. According to reports, Mackey used personal weapons in an attempt to harm someone. Personal weapons could include hands, feet, or fists. In addition, the authorities charged Mackey with making threats to a 22-year-old female acquaintance during a confrontation. Mackey's wife and stepson survived with minor injuries.
Mackey's lawyer, Philip White, said he was dealing with "barrage of stress factors that the normal person wouldn't have thrown at them." And, this is the reason for his actions, he said.
There is more trouble for Mackey. A woman is suing him and the Wichita Police Department for $5 million. She blames them for the fatal shooting of her mentally ill husband in 2014.
According to the lawsuit, Stacy Richard was threatening to kill himself. His wife, Michlle, called his therapist, who informed the police. They showed up at the scene. Almost immediately, the officers barged into the house, fired 40 rounds, and killed Stacy. Mackey is the one who made the call to enter the home.
After hearing about the gambling scheme and the charges against Mackey for threats and domestic battery, Richard's lawyer, James Thompson, commented, "It does not surprise me, and I do think it shows a pattern of behavior on his part."
The End Result
Authorities discovered text messages between Zajkowski and Mackey in which they were trying to identify the undercover officer's vehicle. Because of this, they charged both men with one count of obstructing law enforcement. Authorities charged Wedman with one count of obstructing law enforcement and one count of lying to the FBI.
Sentencing for Zajkowski will be Aug. 2.
Disclaimer: All images are copyright to their respective owners and are used by USA Online Casino for informational purposes only.