Regulators in Pennsylvania have given the green light for three more of the Keystone State's casinos to launch their own sportsbooks.
The Pennsylvania Gaming Control Board handed out sports betting licenses to the SugarHouse Casino in Philadelphia, Rivers Casino Pittsburgh and Harrah's Philadelphia Casino and Racetrack.
Both the SugarHouse Casino in Philadelphia and Rivers Casino are owned by Rush Street Gaming LLC and have announced plans to start taking sports bets as early as December 1.
Harrah's Philadelphia Casino has yet to announce when it will start taking bets.
To date, only five of the 13 casino license holders in the state have applied for sports betting licenses and all so far have been quickly approved. The first two licenses were issued to Hollywood Casino in Dauphin County and Parx Casino in Bensalem, the latter of which has already announced plans to start taking bets sometime later this month.

How sportsbooks came to be
The Pennsylvania legislature legalized sports betting back in 2017 as part of a comprehensive expansion of gaming in the state. Sports betting, which was included in the law, could not actually be implemented until changes were made at the federal level.
A year later, in a landmark U.S. Supreme Court case, Christi vs NCAA, the state of New Jersey challenged the constitutionality of the Professional and Amateur Sports Protection Act (PASPA), a 1992 law outlawing sports betting across the U.S. with the exception of Nevada, Delaware, Oregon and Montana.
The court ruled in May this year that in fact PASPA was in violation of the state's rights clause of the U.S. Constitution, de facto opening the floodgates on sports betting across America.
As a result of the ruling, individual states would have to decide it they wanted to legalize sports betting and tap into the tax revenues associated with what is estimated to be a $150 billion market.
So far, nine states have placed legal sports betting laws on the books including: Nevada, New Mexico, West Virginia, Delaware, New Jersey, Pennsylvania, New York and Rhode Island. Fifteen other state now have bills legalizing sports betting before their respective legislatures.
New Jersey and Delaware were the first states to jump on the sports betting bandwagon handing out licenses in June, just a month after the U.S. Supreme Court decision.
Pennsylvania took longer, due in part for the need to draft and approve an effective regulatory framework for the industry.
Expansion plans
Early on industry analysts expected sports betting license interest to be limited in the state thanks to an up front $10 million licensing fee as well as a 36% gross gambling yield tax rate, four times higher than in neighbouring New Jersey.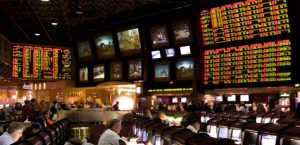 Rivers and SugarHouse have stated that they initially plan to open up their sportsbooks using temporary facilities located in their existing premises, while starting construction on full service, multifunctional venues to open sometime next year. For the time being both firms will be removing slot machines off the casino floor to make way for the sportsbook infrastructure.
The temporary sportsbook at the SugarHouse will be comprised of 1,800 square feet of space on the north end of the casino beside the poker room and be able to seat approximately 70 people. The Lucky Red Lounge on the central gaming floor will be cancelled to make way for the permanent facility.
Over at Harrah's the company plans to nix its concert venue to make way for a 4,322-square foot permanent sportsbook that will include arrays of flat screen TVs and stadium style seating.
Online sportsbooks still to come
All three casinos' online sportsbooks will be launched in the future as the operators work to put in place effective age checks and geolocation software.
So far in neighboring New Jersey, online sports betting has performed well, with more than half of September's $40.4 million in sports bets being placed online via either in-house terminals or mobile devices.
Fortunately for SugarHouse, the company' parent, Rush Street Gaming LLC, already has an online gambling and sportsbook app live in New Jersey, giving it a leg up on the competition in terms of both experience and the infrastructure needed to get online operations up and running quickly.
Other regulatory issues
At the same time the Pennsylvania Gaming Control Board has also approved two more licenses for online slots and table games for Stadium Casino LLC and Presque Isle Downs & Casino in Erie.
Stadium Casino LLC currently has plans and the necessary permits to construct a casino in south Philadelphia.
The regulator has already approved real money online casino games licenses for the Valley Forge Casino Resort in King of Prussia, the Hollywood Casino at Penn National Race Course, Harrah's Mount Airy Casino Resort in the Poconos, Sands Bethlehem and SugarHouse.
None of the license recipients have yet to actually launch live online casino games operations, as equipment must be tested and pass regulatory inspection, a time intensive process, before going live.
At the same meeting the regulator also approved Valley Forge Casino in King of Prussia's request to add an additional 250 slot machines to its existing casino floor, putting the operator's total number of slots on offer at 850.
Valley Forge Casino, recently bought by Las Vegas' Boyd Gaming, who operate properties in Las Vegas, Louisiana, Missouri, Indiana, Iowa, Illinois and Kansas, plans to phase in the new machines before the New Year in a $9 million investment.
Disclaimer: All images are copyright to their respective owners and are used by USA Online Casino for informational purposes only.