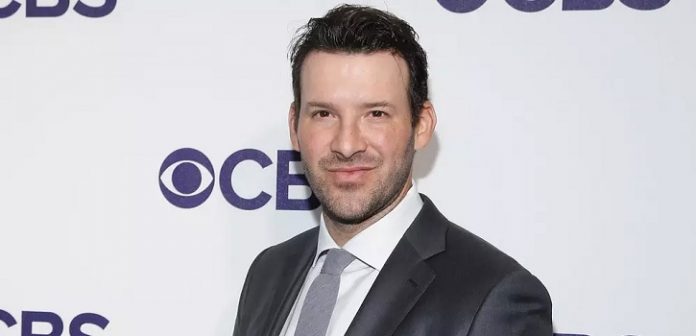 Tony Romo, a retired football player known for both his athletic skill and past love life, was even more popular than normal on social media during the Patriots-Chiefs AFC Championship Game. Romo has a distinct ability to predict football plays before they occur. Therefore, it is only natural that virtual sportsbooks are offering prop bets that revolve around Romo's prediction ability on Super Bowl Sunday.
However, a bet concerning how many plays Romo, a former Cowboys quarterback who has been nicknamed "Romo-stradamus" will accurately predict is only one of the prop bets surrounding Romo's predictions that were in play for Super Bowl 53.
Gamblers can also bet on whether Romo's star turn on television over the past two football seasons will ignite return by Romo, 38, to the next NFL season, as either a coach or player. Bettors can even gamble on whether Romo and partner Jim Nantz will go against the "no betting" edict from their bosses at CBS to discuss the point spread during the Super Bowl.
Whether using virtual sportsbooks on Bovada's prop bets or the bets on other outlets, football fans can wager on everything from the color ties Nantz and Romo will wear to the total number of times the men will say "Hotlanta" or "Gronk."
Bovada Prop Bets
The prop bets from Bovada are as follows:
How many plays will Tony Romo correctly predict ahead of the play during the Super Bowl?
Over: 7.5 -140
Under: 7.5 Even
What will Tony Romo be doing at the start of the 2019 NFL season?
TV analyst: -400
Playing in the NFL: +275
Coaching as an offensive coordinator: +450
Coaching as a defensive coordinator: +1600
How many times will Ted Rath be mentioned during CBS' broadcast?
Over: 3.5+155
Under: 3.5-220
How many times will the CBS broadcast mention Sean McVay's age?
Over: 1.5-190
Under: 1.5+145
Announcers also have to point out that he is 33 to count for one. This has to be mentioned in conjunction with his age to count towards wager.
Additional Bets
There were more bets concerning Romo and the Super Bowl, as outlined here:
Will the CBS broadcast mention the point spread or total during the broadcast?
No: -350
Yes: +225
Whether Romo and Nantz will enter the risky territory of sports betting during the Super Bowl was of great interest to bettors as well.
Even though sports gambling is becoming more popular due to more widespread regulation, CBS Sports boss Sean McManus states that CBS's policy is not to talk about point spread, over/unders, favorite, underdogs or betting lines. McManus states that CBS would not change its stance for the Super Bowl.
With TV sports announcing vets like Brent Musburger and Al Michaels calling the game, bettors can wager safely that these men would find a way to include a sports gambling reference in their commentary.
However, both Nantz and Romo stated that they did not object to avoiding the subject of gambling during a recent CBS press conference in New York. This means that gamblers should bet at their own risk.
Now that legal sports betting is growing in scope and the Raiders are preparing to move to Las Vegas in 2020, it won't be long before NFL television partners start talking about betting lines while on the air. It appears that younger sports fans are embracing this change, according to the sixth annual Super Bowl survey provided by BCW.
The new poll indicates that 67% of millennials are more likely to place a wager on the Super Bowl than any other athletic event. People who state that it is more exciting to watch the Super Bowl on television is 54%  and in addition, that betting on the game makes it more thrilling.
Disclaimer: All images are copyright to their respective owners and are used by USA Online Casino for informational purposes only.