On Twitch, if a streamer's concurrent view count stays over 20,000 consistently, they have like hit the jackpot. This is the result of years of devoted effort and hard work or accruing followers and building a community. Huge names like Summit1g and Myth average below about 20,000 months. One casino observer watched a casino stream with zero followers accomplish this in one day.
Twitch Casino Section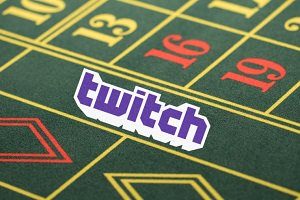 The casino section for Twitch has been around for years now in a few variations. This section is a host to streamers who bet money on internet gambling sites in the hopes of winning a number of casino-style games. These activities including jackpot, slots and blackjack. If you use the browse feature on Twitch to browse through the sections at any time during the day, the casino section will appear near the top of the list because of the high view count. This is high in comparison to other individual games. At the time of this writing, for instance, the casino had more than 51,000 viewers and Overwatch only had 28,000.
More on Casino Streamers
A number of casino streamers like CasinoDaddy, a channel that has been popular since 2016, have more than 60,000 followers. The channel features a cast of other streamers who interact with chat and offer entertainment. In these channels, the streamers interact with each other and place bets on internet games of chance. The streamers also cheer when they win but tend to get angry when they lose. Giveaways are also hosted on some channels in the Twitch casino section.
However, other channels are more outright about their intentions and only feature video feed of online jackpot games. The games are played endlessly with anonymous off-screen users who are slowly but surely making a betting profit.
These streamers do not normally speak to the other streamers. Most people in the casino community, including those in CasinoDaddy, post their channel descriptions with a number of casino-related ads – so much so that the virtual rooms look like the walls of Vegas alleyways. If you click through the ads, you will receive bonuses. These bonuses usually come in the form of extra points or starter cash for bettors. CasinoDaddy, for instance, tries to make sure that the site is as safe as possible for bettors, and tries to ensure and emphasize that the services are only for people who are 18 years of age or older. CasinoDaddy is also connected to a charity based in the UK that is committed to minimizing gambling-based harm. This points viewers to a site that allows them to bet on hundreds of slots games. Gamblers can also play roulette, jackpot, blitz, blackjack and a variety of table games.
During the past year, and particularly in the past couple of weeks, Twitch users have noticed a different breed of gamblers on the casino channel. These gamblers seemingly come out of nowhere and quickly rise to the top of the casino section.
One example of this is Casinoblast, which seemed to be established only the day before it becomes prominent on the channel. There were more than 25,000 concurrent viewers during the debut stream, which lasted seven hours. At the beginning of the debut, the channel did not have any followers and Casinoblast was not following any other streamers. Now, Casinoblast only has 20 followers, even though thousands of people viewed the channel just the day before. For the sake of comparison, CasinoDaddy has 60,000 followers and usually attracts between 2,000 and 3,000 concurrent views.
Twitch users, however, suspect foul play. A Twitter user stated on Twitch's official account recently that "there is someone viewbotting to top the casino [section] and make money, and his chat is full of bots with a list of about 20 common "Twitch phrases." This is the weirdest thing I have ever seen." The user did not get a reply.
Disclaimer: All images are copyright to their respective owners and are used by USA Online Casino for informational purposes only.