Macau casinos have taken a big hit in light of the massive typhoon Mangkhut after government authorities in the Chinese special administrative region and former Portuguese enclave forced a 33-hour shut down of all casino activity as Mangkhut battered the city.
Casino operators are now estimating that the closure of the city's 42 casinos could cost operators some $186 million in casino revenue, according to Bloomberg. The government ordered the shutdown at 11 p.m. Saturday night as the city raised its typhoon warning to the highest level in the face of the approaching storm.
Macau city officials had come under biting criticism for their response after typhoon Hato ravished the city last year. With 16 deaths and hundreds of injuries, accusations have been levelled at city officials and the city's meteorological service for both unpreparedness and being unwilling to raise alert levels and shutter casinos for fear of the impact it would have on the city's revenues.
"This is the first time in Macau history that all casinos halted operations, to ensure the safety of employees," said Stephen Lau, president of Power Macao Gaming Association, an organization that represents casino workers. "We are seeing the government and casino operators no longer just put profit over the employees' interest."

Casino stocks battered
The closure was immediately registered in trading in Hong Kong, as casino operator SJM Holdings and Galaxy Entertainment Group both led losses, falling 2.1% in trading early Monday morning after Hong Kong reopened exchanges also stuttered by the storm.
Union Gaming Securities Asia Ltd. Estimated that the shutdown will cost the cities casino operators anywhere from $135 million to upwards of $184 million in lost casino revenue. Typhoon Mangkhut prompted the first ever mandatory casino closures since gambling licenses were first issued in 2002.
After bouncing back from the anti-corruption drive China launched in 2012, which lead to a dwindling number of Chinese whales willing to travel to Macau to gamble for fear of being accused of corruption, and months of declining revenue figures, Macau was on the rebound, posting 25 straight months of year-on-year revenue gains before the storm.
Investors have been further worried about U.S. President Trump's trade war with China, which is seen, together with the potential of a renewal of the anti-corruption drive by Chinese authorities as a possible dampener on casino gambling revenue.
Forecasts lowered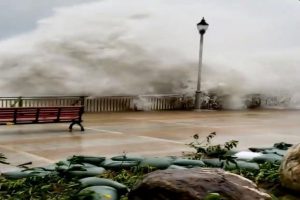 In light of typhoon Mangkhut, however, analysts have been lowering the forecast for the region, saying revenue growth in September may be now off by as much as 7 percentage points from previous estimates.
Grant Govertsen, an analyst with Union Gaming Securities Asia, has said the storm is likely to cut the firms September outlook in half from its pre-storm 15% as well as drive down overall third quarter revenue by 2%.
"This robs the month of one important weekend day," which typically generate significantly higher gaming revenue than midweek days, Govertsen said in an interview with Bloomberg. It will take a day or so for traffic to return to normal given how many flights and ferries were cancelled, he added.
Shares tumbled further Monday morning with Galaxy Entertainment down 4.6%, SJM Holdings down 3.9% and Wynn Macau down 3.2% in early trading.
"Investor sentiment could remain weak and volatile for now, given macro uncertainties and likely earnings revision by the street, exacerbated by this typhoon/suspension news," JPMorgan analyst DS Kim wrote in a note Sunday. "September could be a month to forget."
Kim also went on to lower overall gambling revenue estimates from 13% to the low single digits for September and dropped quarterly growth estimates from 14% to 10% due to the impact of the storm.
Despite flooding and extensive property damage, with typhoon Mangkhut now heading into mainland China and substantially weakened, the vast majority of Macau's casinos were able to reopen their doors at 7 a.m. on Monday morning.
Disclaimer: All images are copyright to their respective owners and are used by USA Online Casino for informational purposes only.