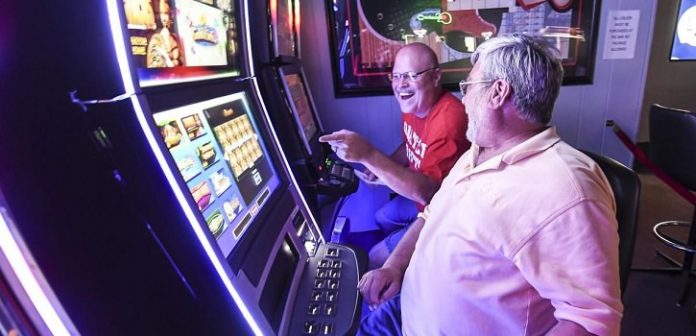 The town of Forest Park has an ongoing debate on the legalization of video gaming terminals and how to regulate them. However, another problem exists. The town has recently seen an influx of unregulated sweepstakes machines. These machines are illegal. They are also not bringing in revenue, which is why the town wanted video gaming terminals in the first place.
Sweepstakes Terminals
Sweepstakes terminals skirt the line of gambling in many states. Most sweepstakes terminals operate like a vending machine. When the customer buys a prepaid phone or credit card, they have the opportunity to enter a sweepstakes for prizes. The prizes can be exchanged for cash. It is the exchanging of prizes for cash that is illegal. Usually, the sweepstakes machine gives customers a particular number of chances for each dollar they spend on a phone card.
In most states, sweepstakes machines are illegal. Many states consider them to be a form of gambling, as there is no skill involved with the machines and play. Also, the chances of winning a sweepstakes game are minimal, with odds much lower than any other gaming terminals. Sweepstakes games have also been problems for police departments because of the money laundering issues. People feed small amounts on phone cards, and play the sweepstakes as well as a way to launder money. If they win, they will then get to keep the money for themselves.
Forest Park, Illinois
After the passage of the Video Gaming Act in 2009, Forest Park allowed video gaming terminals (VGTs) in their township. The bill ensured that some businesses would be able to get VGTs. Bars and grills, truck stops, fraternal and veteran orders could receive licenses for up to five video gaming terminals. The towns were granted gambling licenses after they complained about giving small suburban and rural towns access to gambling. The towns complained that while larger areas were granted gaming revenue through riverboat gambling, small towns were not eligible.
Legality
Sweepstakes machines are technically legal in Illinois. But there are so many rules that most machines found in the state are illegal. VGTs are limited to five per establishment. To obtain a license for VGTs, businesses had to have a liquor license. Additionally, they had to pay a fee to the add-on to the license.
Several towns in Illinois have had problems with sweepstakes machines, especially at convenience stores. The illegal machines don't collect taxes. Customers also have no recourse if something is wrong with the machine, or they lose their money. One convenience store in Forest Park, a Citgo, had a sweepstakes machine near the back of the store. The machine with a hand-printed sign that stated all customers must pay at least $5 to redeem any winnings.
Most of the machines found in Forest Park so far are Ficus machines. The company has not commented on the find. Although it did state that in some locations, the machines were legal. Some of the machines might be legal in Illinois, but they are not legal in the city of Forest Park. The Illinois Gaming Board has also said that the machines pose a threat to legal video poker machine gambling. The Illinois Gaming Board also notes they provide no tax revenue to the state. Forest Park police have said when they find machines, they will confiscate them, and arrest the owner of the establishment.
Disclaimer: All images are copyright to their respective owners and are used by USA Online Casino for informational purposes only.