A new American Gaming Association report has shown that gross gaming revenue from casinos across the United States last year continued to outpace the rapidly growing Asian gambling hub of Macau.
For a third year running the U.S. casino market has outpaced Macau, according to a report released yesterday titled, " State of the States: The AGA Survey of the Commercial Casino Industry." The report's highlights included the finding that the commercial gambling industry in the 24 US states that allow for some form of legalized gambling generated some $40.28 billion in gross gaming revenue in 2017, increasing 3.6% year-on-year.
As a result, the US states that have permitted casino gambling were able to pull down $9.23 billion in tax revenues in 2017, or 23% of gross gaming revenue.
According to data released by the National Indian Gaming Commission, as cited in the report, tribal casino revenues added an additional $32.40 billion last year, showing a growth rate of 3.9% over 2016.
For the same time period, gross gambling revenues in Macau, the former Portuguese enclave and now semi-autonomous Chinese state, totalled $32.87 billion even as the market continued to grow by 19.1% year on year.

Macau issues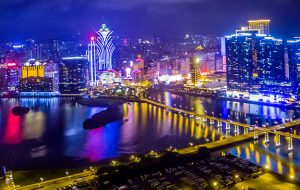 A Chinese government crackdown on corruption seriously impacted Macau's bottom line starting in 2012, as Beijing reigned in Macau junket operators who brought in Chinese whales by the plane load and all the cash that went with them. With Macau's casino revenue base largely centred on high rollers and the VIP crowd, the Chinese government crackdown, and its ability to use facial recognition technology in Macau casinos to screen for corrupt government officials and whales engaged in moving currency out of China via Macau casino play, scared away many of the whales as the number of arrests increased.
The gambling mecca's gross gaming revenues were also hit by Typhoon Hato in 2017, the largest storm to hit the city in half a century.
However, as the Chinese government has eased up on its anti-corruption drive, the whales have begun to return to Macau and the city is showing solid growth rates.
But it's not all smooth sailing. As analysts such as Vitaly Umansky, Zhen Gong and Kelsey Zhu of Sanford Bernstein have shown, "any re-emerging anti-corruption campaign would bring headwinds to the VIP sector and high-end premium" in Macau, and again slow growth.
Before Beijing's anti-corruption crackdown, Macau had begun to outpace US casino growth in gross gaming revenue back in 2012 and was able to set the lead globally for the next two years. With the onset of the anti-corruption drive, Macau revenues began to fall and continued to do so for the next 28 consecutive months, only returning to growth in 2017.
Leading us revenue generators
In terms of market size, Las Vegas still remained the premium gambling destination in the United States, pulling in some $6.46 billion in gross gambling revenue. Las Vegas was followed by Atlantic City, which pulled in $2.41 billion, the greater Chicago area, dubbed "Chicagoland" at $1.97 billion and the Washington-Baltimore region at $1.77 billion.
Growth in the US casino market is expected to continue throughout 2018, with Atlantic City opening the doors on two new casinos, The Ocean Resort Casino that has risen to replace the failed Revel Resort and the Hard Rock Hotel and Casino Atlantic City, replacing the failed Trump Taj Mahal, this year. Furthermore, the U.S. Supreme Court ruling in the case of Christi vs NCAA overturned the Professional and Amateur Sports Protection Act, paving the way for state legislatures to legalize sports betting as they see fit across the United States, which will add to many casino's bottom lines in 2018.
Macau is also well positioned to see future growth, with Morgan Stanley analysts forecasting a 24% gain in gross gaming revenues over the next two years. The growth predictions are attributable both to the Chinese government easing up on its anti-corruption drive encouraging the whales to return as well as extensive development of integrated casino resorts on the Cotai strip.
Disclaimer: All images are copyright to their respective owners and are used by USA Online Casino for informational purposes only.