If you've ever hit up the land-based casino behemoths in places like Vegas or Macau, you'll often notice cordoned off sections specifically reserved for VIP guests and high rollers. These special areas can include private poker rooms, VIP lounges, personal cashiers and a free bar. However, there are plenty of other perks and luxurious advantages to being a high rolling gambler, both in brick-and-mortar venues and online casinos. 
HIgh rollers are considered the cash cows in the industry, and while the typical profile of a "high roller" is someone who is already quite well off and always ready to invest a lot into their bets, they are also someone who gambles regularly and is not afraid to leave big tips after their visit. Each casino has their own idea about what constitutes a high roller or VIP player. Let's talk about what you can expect if you were to opt for (and could actually afford) this kind of lifestyle.

Private Gaming Areas
High-limit rooms in casinos utterly ooze luxury in terms of their layouts, decor and personalized offerings to players with pockets full of cash. And rubbing shoulders with clientele of this calibre could see you sitting next to anyone from celebrities and politicians to members of royalty and industrial tycoons on a good day. 
These rooms feature seperate entrances and speedy check-ins, high-stakes tables and private lounge areas. When it comes to online casinos, many have virtual VIP members-only rooms. Although these can't offer the luxury of what a land-based casino can, these rooms tend to see fewer players — which means that those visiting can generally relax more and go at their own pace while playing. 
Better & Faster Service
When you're in the high roller club, the casino literally can't do enough for you and an assistant will always be just a few meters away to top up your glass, fetch you something special from the kitchen, or change up your casino chips. You get non-stop A-list treatment until your wallet or purse runs dry in most brick-and-mortar facilities. Online casinos usually offer personal account managers and live dealers who tend to be more attentive to players, and provide fantastic service. Including faster withdrawal times and cashouts.   
Higher Limits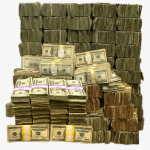 In addition to faster cashouts, VIP programs also include higher withdrawal and cashout limits. While the minimum stake in most of the games could be as much as $100,000 a hand, the winnings that you could end up taking away with you in one single night could be ginormous.
If you score big as a VIP online, the process of crediting your account will be much faster than a basic player account, and you'll have someone to personally handle every last cent of the winnings on your behalf. 
Bonuses & Free Bets
Bonuses are like free money to players anyway, but when you're rolling as high as a VIP, you'll not only get bonuses offers more frequently than everyone else, you'll also get much better ones too. Not all of these big deals are subject to a deposit either, so it means you'll be saving money and can expect an even heftier payday if you happen to strike gold. 
Luxury Hotel Stays
In places like Caesar's and the MGM, these super multi-complex casinos contain hundreds of lavish suites, apartments and penthouses for their highly important guests. Quite often these mammoth facilities will even fly the biggest of spenders in by private helicopter. If you're considered true casino hierarchy, you can essentially count it all as part of the thank you package from the casino. Because you're no doubt going to be paying it back to them in what you spend anyway!   
Gourmet & Fine Dining
All the top-level casinos have their own restaurants to cater for casino and hotel guests, and many times the food is all-inclusive as part of your stay as a VIP. And we're not just talking box-standard burgers and fries either! The casino kitchens cook up a range of delicious cuisines daily for their high rolling guests, and you can pretty much order anything you want and have it delivered to your suite on an actual silver platter. 
Online establishments may not be able to provide you with a personal waiter or chef, but they'll often send you vouchers or coupons for a fine dining experience at a place of your choice. 
Credit Lines
Another perk that VIP and high rollers can expect when they plan a visit to a land-based casino is extended credits lines. What this means is that for players with fat wallets, the casino will essentially give you an instant loan to gamble with. 
This can be as much $10,000 worth of chips that the player can return if there are any left over after their playing sessions. However, more often than not, this is just a way for the casino to get high rollers placing huge bets –all of which are likely to be recouped back by the casino eventually anyway.  
Personalized Account Managers
In the VIP rooms, members are always taken care of by the cashier handlers, and have personal staff at their beck and call at all times. In the case of online gambling, casinos generally offer monthly subscriptions to their VIP programs, which includes the players' own personal account managers. In addition, because VIPs always spend a lot of money, they are considered a priority and transactions tend to be processed much faster. 
Custom Gifts and Birthday Rewards
Free bonuses and bets are a done thing for high rollers, but when you have a birthday or an anniversary, the casinos will quite often send you personalized birthday gifts to make your day that little bit more special.
Usually this will be in the form of another free bet or comp reward points — although some casinos go as far as to send you on a luxurious vacation or weekend break if you're subscribed to their very top tier. Other gifts can include free tickets to concerts, events and theatres. 
You Decide
For the majority of us gamblers, we'll probably never get a taste of what the high rolling casino life is like unless we happen to win the lottery. But before you start to feel disheartened by that fact, remember that the casino's sole purpose is to get players flushing away as much cash as possible. So while it might seem like VIPs are getting all of this free stuff and lavish treatment, who is really losing here? We'll let you decide.
Disclaimer: All images are copyright of their respective owners and are used by USA Online Casino for informational purposes only.