Video poker is one of the most well-known and frequently played games of the modern-day casino. Although the video poker that exists today differs greatly from that of its 1970s predecessor, the principles remain the same. The demand for these machines skyrocketed quickly in the 1980s as visitors began converging in throngs to the video poker area of casinos everywhere. It's easy to see why; they were flashy and colorful, and more importantly, they were an easy way to dive in.
Table games required social interaction and at least some basic level of expertise; these machine alternatives provided a modest square of personal space where players could have their privacy and take things at their own pace with no external pressure. In short, video poker was an approachable alternative, the appeal of which continues to live on.
Today, it remains a fundamental component of casinos all around the world. Thanks to video poker's popularity, it wasn't long before it was made available online, an option that allows you to play anytime, in the comfort of your own home or anywhere else.
Top Online Casinos To Play Online Video Poker
How to pick the best online casino to play real money video poker
Security
Before you sit down to play online video poker for real money, the first feature of an online casino that you should factor into your decision is security. It is imperative that you research casinos carefully and select one that is properly certified with a solid reputation for state-of-the-art security protocols, reliable personal data protection, and a quick, efficient system for deposits and withdrawals. All of the casinos we review here at USA Online Casino have been thoroughly reviewed in order to ensure that your security is the top priority. Once you've perused our list of trustworthy casinos, select one that best suits your player preferences.
Bonuses
There's a vast array of online casino options out there and choosing the right one can be a daunting task. Aside from a solid reputation, the casino you choose should offer the most advantageous bonuses for your particular needs and playing style. When you're ready to sit down for a real money online video poker session, you want to rest assured that you've selected the casino with the most favorable bonuses. Doing so can drastically optimize your bankroll, the length of play time, overall enjoyment, and potential winnings. At USA Online Casino, we strive to bring you the latest offerings in bonuses. Be sure to browse the wide range of options, but don't forget to read the fine print before selecting a casino bonus.
Game selection
Selecting the best bonus is important, but once you get started, you'll also want the freedom to move around and try different things. There are several variations of video poker, and they have two main differences. The first is how the rules work: most are based on the basic five-card draw, with different winning hands depending on the variant. These include Deuces Wild, Jacks or Better, Bonus Poker, Double Bonus, and more. In Jacks or Better, for example, the player wins if their final five-card hand contains one pair of Jacks or higher. The second difference is in how the payouts work. Some games offer higher payouts than others, and full pay games offer the highest payouts.
Start to play
Once you're finished with the above steps, you've covered just about everything. The last step is to explore the platforms. One particular advantage of playing video poker online is the sheer freedom and convenience that come with it. Being stuck in transit or dealing with unexpected delays shouldn't deter you from being able to enjoy your games when you want to. The casino you choose should offer ways to play no matter where you are – that means on your desktop, laptop, tablet, or mobile phone. Enjoy the freedom you have to play however, wherever, and whenever you want.
TYPES OF REAL MONEY ONLINE VIDEO POKER
Aces and Eights
This is a variation of Jacks or Better (see below) played with a standard 52-card deck. The basic rules are the same, but the payout system differs slightly. Aces and Eights has higher payouts for the following four of a kind hands, from high to low: with Aces or eights, with sevens, and with any other cards. The lowest winning hand is a pair of Jacks.
Bonus Poker
This is a common game also based on Jacks or Better with a standard deck. In contrast, it has high payouts for the following hands, from high to low: four of a kind with Aces, four of a kind with twos, threes, or fours, and four of a kind ranging from fives to Kings. The lowest winning hand is also a pair of Jacks.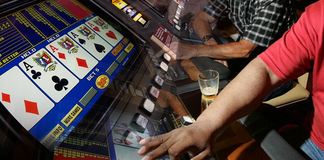 Deuces Wild
Deuces Wild is played with a standard deck. As the name suggests, the deuces in the playing deck (the number two playing cards) count as wild cards in this game, standing in for cards of any denomination and suit. These wild cards mean that winning hands are far more common, and for that reason, the pay table is less rewarding than other variants like Jacks or Better. The lowest winning hand is a three of a kind.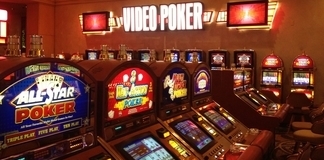 Jacks or Better
If you're new to video poker, this variant (also referred to as Draw Poker) is a good place to start. It's considered one of the most popular video poker games, and it's also the basis for many other variants. To win this game, all you need is a pair of Jacks or better to get a payout. The lowest winning hand, of course, is a pair of Jacks.
Joker Poker
Also known as Jokers Wild, this game is another variation of Jacks or Better. The Joker card acts as a wild, which means that the player can use it in place of any other card in the deck to complete a hand. With the addition of a Joker, the game is played with 53 playing cards instead of the standard 52-card deck. The lowest winning hand is a pair of kings.
Sevens Wild
Sevens Wild is played with a standard deck of 52 playing cards, and the rules are similar to those of Deuces Wild Video Poker. The sevens are wild and can be used as a substitute for a card of any denomination and suit to complete a hand. As with Deuces Wild, the lowest winning hand is a three of a kind.
Start Playing Now At the #1 US Online Casino
ONLINE VIDEO POKER TIPS AND TRICKS
Video poker is a game that offers its players the best of both worlds. Like slots, it's both a visual and tactile experience – coin-operated technology with big buttons and levers with graphics that vary from machine to machine. On the other hand, you have the satisfaction of knowing that your success isn't solely a matter of random events. Follow the basic guidelines below to ensure a positive experience with video poker, whether you're just starting out as a beginner or refreshing your memory as an experienced player.
Get Comfortable
Enthusiasm is always important, but don't be too eager right away. Before you get ahead of yourself and go wasting your money, familiarize yourself thoroughly with video poker itself, just the basics. Be smart about it. The game is more than just card-clicking and button-pushing, and that's probably part of why you're interested in it. Play for free at any of our certified casinos and develop a sense of the controls until you can use them with ease. It will make things easier for you when it comes to picking up and utilizing other tips on this list.
Study the Details
As mentioned earlier, there are two main differences when it comes to video poker options. The name of the game will typically tell you something about the rules of that particular variant and the possible hands. Figure out which rules appeal to you. You may find that you're partial to certain winning hands, and that will inform your decision on what games to spend more time on. When you're transitioning from practice rounds to playing with real money, knowledge of how payouts are determined will be crucial.
Develop Basic Strategy
There are different strategies that can be easily researched for your individual purposes, but to get you started, let's take a look at one of the most popular variants of real money video poker: Jacks or Better. As a rule, you will always want to hold the following hands: two pair, three of a kind, full house, four of a kind, straight flush, and royal flush. If you have a three of a kind, discarding the remaining two gives you a shot at a four of a kind or full house; discarding the last card with a two pair allows for the possibility of a full house.
Play Maximum Bet
Have you reached a point where you're feeling confident in your newfound understanding? Once you can say with certainty that you have, that means it's time to think about how to put your bankroll to work. The most effective method is to place maximum coin bets. Max bets give you the opportunity to hit significant payouts. When you do, you'll experience that gratifying rush that comes with placing the right bet and making the right move. You've gotten this far, so don't try to play it safe now.
Manage your Bankroll
Our previous bit of advice might seem to contradict this point, but it's essential to learn to balance the two. This will determine how long you get to play, how much fun you have, and what your winnings look like at the end of a session. Gambling is about chance and possibilities; it's about risk and how much we can impact positive outcomes. That's where the appeal comes from. You need to learn when spending is worth it and when it isn't. Set reasonable guidelines for yourself.
Stay Clear-Headed
You know the game in and out; now it's time to make sure you know yourself equally as well. Identify your tendencies as a gambler. Staying mindful and taking precautions allows you to play with peace of mind, knowing that you've already put supports in place for yourself. That can look like taking a few deep breaths if you've lost a few times in a row, giving yourself a five-minute break when needed, or finding an accountability buddy when it comes to spending.
VIDEO POKER FACTS AND TRIVIA
With some of the important details out of the way, here are some fun facts about the invention and evolution of video poker:
The Origin Story
In 1891, Brooklyn-based manufacturing company Sittman and Pitt created the very first poker machine. (Credit for this invention is sometimes disputed, due to the invention of the slot machine by American inventor Charles August Fey around the same time.) This early machine featured a coin slot, lever, and five reels. A coin was inserted, the lever pulled, and a rudimentary mechanism spun the reels, or drums, as they were called. The game was a popular addition to bars and clubs, and the payouts were usually prizes like free beers or cigars, determined by the establishment itself.
The Odds, Then and Now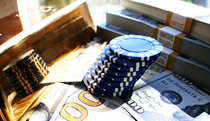 The early poker machines installed in bars and clubs seem prehistoric compared to today's machines. In fact, they were so primitive that owners could alter them and had the freedom to do as they wanted. For example, they were able to exercise some control over winning hands. To avoid having to reward players with huge payouts, they would remove cards from the deck to decrease the odds of certain hands. For example, with the ten of spades and the Jack of hearts missing, it was a deck of only fifty cards, which drastically changed the odds of a winning royal flush. Today, many laws and regulations have been put into place, and these machines are strictly regulated in most states. Class III games, which include slot machines, blackjack, craps, and roulette, all must offer players fair odds. That means that gaming machines are mandated to have the same odds as with a real deck of cards.
Somewhere Between Then and Now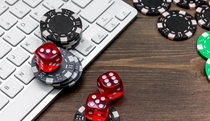 Most players know that electronic gaming depends on something called an RNG, a random number generator. It's a common misconception that this mechanism shuffles 52 virtual cards to deal them in a random manner; it's actually assigning a number between 1 and 52 to each card, then collecting five of those randomly to produce a five-card hand. Provided that the RNG works properly, the game should be fair, right? Today, the answer is yes – however, machines from before the mid-1980s had a critical flaw. When selecting five cards for the hand, five replacement cards were selected for the draw, with each one lined up "behind" a card in the original hand, which meant if a card was discarded, only the replacement card would be shown. This method, called parallel dealing, was criticized as unfair – if the player needed a card that was linked to a card they kept, there was no chance to actually win the hand.
ONLINE VIDEO POKER WINNER STORY
Cody, Delaware
"One Monday morning just as I was getting ready for work, I had a sudden urge to play real money video poker. Something inside me was telling me this was going to be one of the best Mondays ever. I'm not sure why, maybe call it intuition but I woke up feeling fresh and ready to conquer the world. I hadn't signed into Cool Cat Casino for weeks, so when I did and the first thing I saw was my credit balance. It was sat at $239.
I said to myself, "Oh I forgot about that last one!" I had won my last game and completely forgot to draw on it. So as I entered into a new one I thought I may as well just bet max coins, seeing as I had completely forgotten about my last win anyway. Aren't I glad I did, because in that next game I got Royal and received a whopping $4, 000!
Frequently Asked Questions
What is video poker?
Video poker is an electronic machine that operates in a similar manner to slots. It is based on the most basic variant of poker, five-card draw. Most video poker games use a standard 52-card deck. The player makes a wager and clicks the Deal button, and the game deals five random cards from the deck. The player then can choose which of the five cards he would like to keep and which to discard; he can choose to discard any number of cards. He is then dealt additional cards from the deck to replace any he may have discarded. The player then receives a payout according to the pay table, if he has a winning hand. Each variant of video poker has different rules when it comes to what is considered a winning hand. The pay table for that particular game can be consulted in order to determine the value of each winning hand.
Is video poker purely a game of chance?
No – and this is one major reason for its popularity. As with any other casino game, chance plays a significant role in the outcome of each round, but it's not the only determining factor when it comes to winning. The cards are dealt randomly, but because there is the option to discard any number of cards after the initial deal, the game does involve a certain amount of strategy. Just as blackjack involves hitting or standing, the outcome of a round of video poker depends on the player's decisions. If you look for the best pay tables and play wisely, you may even beat the house edge.
What is house edge?
The house edge is the advantage that the house (the casino) has over the player. As you might expect, most games will be set in favor of the casino over the player. The house edge for video poker (depending on the specific rules, pay tables, strategies employed, etc.) can be as low as 5% to 0.5%.
How can I improve at video poker?
Unlike games like poker and blackjack, video poker strategy can be challenging to study. That's because there just aren't many books and other reliable sources on video poker strategy. The number and variety of games and pay tables are changing and increasing so rapidly that relevant information can quickly become out-of-date, which is why there's no video poker equivalent of books like "Beat the Dealer" or "Bringing Down the House." However, there are many helpful tools available online like video poker analyzers, video poker trainers, strategy calculators, and more. The best course of action is to search for tips specific to the game you're interested in, then look for opportunities to practice for free until you master the technique.
What is multi-hand play?
Multi-hand is a less common version of video poker that allows players to have multiple hands at the same time. The number ranges from four or five hands to up to a hundred at once, though each one must be played independently of the others. The same cards can be drawn for multiple hands, so it's essentially the same as playing multiple games with separate decks of cards at the same time.
How do I play video poker online for real money?
Playing online video poker is a straightforward process. Most games are available to play on your computer, tablet, or mobile phone. Simply select the online casino of your choice, either log in or register for an account, and choose a game from the video poker options. You can play for free to familiarize yourself with the game. Once you're ready to play with real money for real winnings, make a deposit on the cashier page with a payment method of your choice and get ready to win.
Can I apply online casino bonuses to video poker games?
Most reputable online casinos will offer bonus options for different games, and that's true of all of the casinos reviewed by USA Online Casino. As you're browsing through the bonuses, be sure to make note of which bonuses apply to which games. Read through the terms and conditions to ensure that your selected bonus will be applicable specifically for video poker.
Start Playing Now At the #1 US Online Casino