"Alea iacta est" (the die is cast) is a phrase attributed to Julius Caesar in the first century B.C. as he led his army across the Rubicon river in Northern Italy. In essence, it is a reference to the fact that there is no going back. That fate will be fate. In a nutshell, that's the game of craps.
There are few things more thrilling and fatefully definitive than a throw of the dice. We love craps, and if you don't already, we're sure you will too.
The game of craps is a lot less confusing than it looks at first sight. In this section, we'll introduce you to the rules of the game, how to bet effectively and win when playing real money online craps.
Top Online Casinos To Play Online Craps
How to pick the best casino to play real money online craps
Reputation
First and foremost, when it comes to playing craps for real money online it's important to choose a reputable casino with excellent security protocols, industry-standard personal data protection, and fast payouts. All of the casinos we review here at USA Online Casino have been thoroughly vetted to ensure they offer only the best when it comes to game quality, security, and ease of deposit and withdrawal. Have a look through the casinos presented here and select the one that best fits your mood and sensibilities. Then head to the craps table!
Bonuses
Pick the best casino bonuses. Here at USA Online Casino, we bend over backward to bring you all the best real money casino bonus offers available online today. Check out the different offers but make sure to read the fine print. Not all casino bonuses apply to specialty games such as craps. Some may be limited to slots and keno only. Compare the different casino bonus offers presented here and select the one that includes specialty games and most dramatically increases your bankroll. Be sure to check the playthrough requirements before you begin, (no playthrough is always the best). Then, make your minimum deposit and begin playing!
Ease of deposits
When you're in the mood to roll, there's nothing worse than a casino with a long, convoluted deposit process. Make sure you select an online casino with easy direct deposits, so you can get down to the business of placing your bets and throwing the dice, not wasting time fighting with an obstinate online cashier. All of the casinos we review here at USA Online Casino provide, easy, fast ways to deposit and start playing. Most, if not all, of the casinos on USA Online Casino accept both Visa and Mastercard, American Express, Neteller, Bitcoin, bank checks, and bank transfers.
Start Playing
Last but not least, check out the game quality before you start to play. With the online casino industry experiencing a historic boom, there are countless options to choose from when it comes to the online casino games you play. Quality, however, can vary dramatically. When it's time to select the best online craps casino, game quality, meaning state-of-the-art graphics, digital sound, and an all-immersive experience are important considerations. The vast majority of the casinos reviewed here at USA Online Casino use Realtime Gaming software, an industry leader that ensures your online craps experience is always as good as it gets.

ONLINE CRAPS TIPS AND TRICKS
Take the Pass Line Bet
The pass line bet on the Come Out Roll is one of the best bets in the casino, that's a fact. With an absolutely minimal house edge of just 1.41%, the pass line bet lowers your statistical loss over time to just $1.41 per $100 wagered, meaning you have a whole lot more chances to increase that bankroll.
Make Come Bets
Once a point is established you can place Come bets. This means your next roll becomes a come-out roll. You win if the shooter rolls a 7 or 11 and lose if the shooter rolls a 2, 3, or 12. If the roll is a 4, 5, 6, 8, 9, or 10, your bet moves to the relevant number space on the table and will stay there until the Come bet is won or lost.
Place Field Bets
Perhaps the simplest bet to place in craps, the Field bet pays out if you roll a 2, 3, 4, 9, 10, 11, or 12, paying double for 2 and 12. Easy-peasy lemon squeezy and fairly safe and sane. If you're looking to spend a good bit of time at the craps table enjoying the thrill and fun, Field bets are a nice way to expand your game time. Sure the payout isn't as high as some other bets at 1:1 or 1:2 if you roll a 2 or 12, but the house edge is only 2.8% and 5.5% respectively, potentially expanding your playtime even if you're on a losing streak.
Keep The House Edge in Mind
Casinos are businesses, meaning they need to make money. They do so by factoring in a house edge. Remember the odds are always in favor of the house. Placing bets with the lowest house edge gives you the best chance of winning, allows you to play for longer, and minimize your losses when lady luck gives you the cold shoulder. The lower the house edge, the higher your potential advantage.
Play the Odds
The Come Out Roll establishes a "Point" in craps. Once this is done, you'll have the chance to place what is known as a Free Odds bet, the only bet in the whole casino in which the house edge is zero. You have to have placed a Pass/Don't Pass or Come/Don't Come bet to be able to place a Free Odds Bet, which must always be placed in conjunction with another wager.
Avoid Hard Bets
With the house edge running around 11%, betting on Hard 4 or Hard 10 are not the best bets in craps and leave you at a serious disadvantage with minimal chance of significant rewards. Big 6 and Big 8 bets are also disappointing, while the house edge is not as high as Hard 4 or Hard 10, around 9%, all the risk comes with a meager reward. The payout is only 1:1, so these bets are best avoided.
Start Playing Now at the #1 US Online Casino
TYPES OF CRAPS WAGERS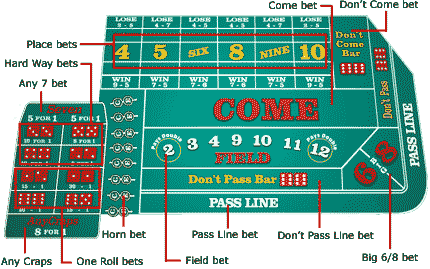 Line Bets
To begin playing real money craps online, the shooter must make either a Pass Line bet or Don't Pass Line bet. The Pass Line is a bet for the shooter to win. If the roll is a 7 or 11, the shooter wins, if it is a 2, 3, or 12, the shooter "craps out" and loses. If the opening roll is any other value, a "point" is established. If that number is rolled again before a 7 is rolled, it's a win. If a 7 is rolled before the point is rolled, it's a loss. A Don't Pass Line bet is a bet for the shooter to lose. If the roll is a 2 or 3 the bet pays, if it is a 7 or 11, the bet loses. If the roll is a 12, the bet is a push (neither a win or lose). Any other roll sets a point as in a Pass Line bet.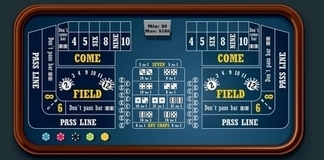 Come Bets
Come bets can be made only after a "Point" is established. This is a bet on the first Point number that "comes" after the shooter's first roll. If the roll is a 7 or 11, it's a win, if a 2, 3, or 12 it's a loss. If it's a 4, 5, 6, 8, 9, or 10, the Come bet is moved to the number rolled. This number becomes the new Come bet Point, meaning that if that number is rolled again before a 7 is rolled, it's a win. If a 7 is rolled before the Come bet Point number, it's a loss. Don't Come bets work in the same way, but you are betting on the shooter to lose after the Come Out roll.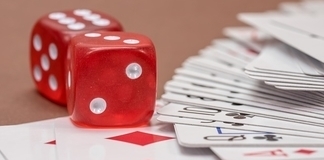 Place Bets
For a Place bet, a number is selected, 4, 5, 6, 8, 9, or 10, and the bet is that this number will be rolled before a 7.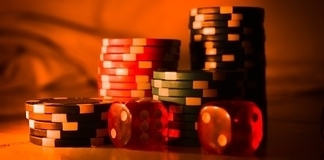 Hard Way Bets
Hard Way bets can be placed on 4, 6, 8, and 10. For the bet to pay out, the number must be rolled the "hard way", i.e. as doubles, before a 7 is rolled or the number is rolled the "easy way", i.e. not as doubles.
Big 6 and Big 8 Bets
This bet wagers that the shooter will roll a 6 or 8 before rolling a 7. Because these are even money bets, paying out 1:1, with a high house edge, around 9%, they are usually avoided by experienced craps players.
Field Bets
Field bets wager that a 2, 3, 4, 9, 10, 11, or 12 will show up on the next roll of the dice. The payout is usually 1:1 and double (2:1) for 2 and 12.
CRAPS FACTS AND TRIVIA
Craps dates back to the Crusades
While dice games date back to pre-history, the game of craps originated during the Crusades and is said to have been invented by a man named Sir William of Tyre an archbishop who helped Crusaders besieging a castle in the Holy Land pass the time by inventing the dice game we know today as craps. The game was originally called "Hazard" after the English pronunciation of the castle to which they were laying siege.
The origin of the name "Craps"
The first written mention of the game of craps can be found in Geoffrey Chaucer's The Canterbury Tales, written in 1478. The name "craps" is said to be derived from the French word "crapaud", derived from the word for "toad". Early versions of the game were played in the dust, on the street up against a wall. The shooters were forced to squat, making them look like toads. An alternative version of the name says it comes from the French word "crabs", a reference to the lowest roll in dice, what we call today in American English "snake eyes".
From poor to rich man's game
Historically, craps was a poor man's game, favored by soldiers with much time to kill. It wasn't until after World War II that craps began to gain in popularity as a casino game among the rich in Monte Carlo, Atlantic City, and Las Vegas. By 1971, Sean Connery as James Bond was glorifying the roll of the dice in Diamonds Are Forever.  This started the long history of the game being portrayed in films as a sexy, dangerous, and high-stakes pastime of the rich and powerful.
Frequently Asked Questions
What is craps?
Craps is one of the most popular dice games in the world. It is played by rolling a pair of dice after placing bets on the craps table. Bets can be placed on a single roll or series of rolls. Please see the types of bets above for more information.
How do I play craps?
Craps can be played at brick-and-mortar and online casinos. For the purposes of this answer, we will focus on online casinos. First, select a casino. Check out the casino reviews here at USA Online Casino and pick a casino that suits your fancy. Log in or register at the casino and go to the cashier. Make a deposit using one of the available deposit methods, e.g. Visa or Mastercard debit or credit cards, American Express, Neteller, bank check, bank transfer, or Bitcoin. As soon as your account is credited, head to "specialty games" and select craps. Click Play Now, place your bets, and roll away!
What is the house edge?
The house edge is the percentage advantage the house has. Remember the saying "the odds are in favor of the house"? Well, they are, as casinos set it up that way to make money by giving themselves a slight statistical advantage. The house edge in craps varies by bet and ranges from 1.41% on Pass Line bets up to 10% on bets like Proposition 2 and 12.
Is it safe to play real money craps online?
Absolutely. All of the casinos we review here at USA Online Casino have been rigorously vetted to ensure they make use of the highest-quality industry-standard encryption technology (on par with major financial institutions) as well as strictly adhere to personal data protection laws to ensure your privacy.
Can craps games be rigged?
Not at a reputable online casino like the ones we review here at USA Online Casino. Reputable, regulated online casinos use something called a random number generator (RNG) to determine the outcome of each roll of the dice in a craps game. Moreover, reputable online casinos like the ones reviewed here use regular audits by independent third parties to certify their software if functioning properly.
How do I play craps online for real money?
Playing online craps for real money is easy. Simply select the online casino of your choice, log in or register, head to the cashier, make a deposit using the payment method of your choice, and head to the specialty games section, make your bet, and roll your way to riches
Do online casino bonuses apply to craps?
Online casino operators are known for offering generous bonuses to new and return players. However, bonuses do have come with restrictions and may vary widely by casino. Always check out the fine print on any casino bonus you are interested in to make sure it includes specialty games if you're looking for an online casino bonus code to play craps.
Start Playing Now At the #1 US Online Casino