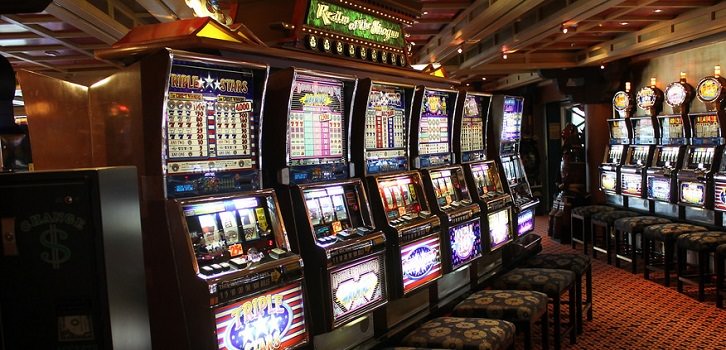 Las Vegas has a lot of casinos, hotels, and entertainment options for people who want to go, gamble, and have a great time. If you are new to the Las Vegas scene, however, how do you know which casinos to visit, and which ones you can save for later? Experts say it is easy to choose which casinos you want to visit if you can decide on one game you would like to play. While there are casinos that specialize in specific types of games, we have a few suggestions for you if you want to play slot machines. Keep reading to find some great choices for your next visit.

Most Variety of Slot Machine Types: ARIA
ARIA, the largest casino at City Center, boasts two hotel towers, and 150,000 feet of gaming space. More than 2,000 slot machines take up a large portion of that base. Popular games, such as Anchorman, The Simpsons, The Walking Dead, Wheel of Fortune, and Seinfeld, are the anchors for the slots floor, but the casino offers thousands of options, from penny slots to high-dollar slots.
A unique feature of the ARIA slots floor is the high-roller slots room, which is not featured at any other casino in Vegas. The high-limit room, which is named SPIN, has machines that cost from between $500 to $5,000 per spin. The casino recognized that while many high rollers opt for the table games, there is a group of high rollers who love to gamble on slot machines, and ARIA has gone out of its way to make sure this group of gamblers feels at home at the casino. The high-roller room has its own money exchange, private bathrooms for its guests, an exclusive private dining area, and a service staff waiting to be at each high roller's beck and call. Who wouldn't want to play the slots there?
In addition, ARIA sponsors several slot tournaments every year at a variety of buy-in levels, so any slots player can feel like a champion.
Best Casino for Nongamblers to Play Slots: The MGM
The MGM has been known for years to be extra stingy on slot machines, but don't overlook this casino. It is one of the only casinos that has horse racing slot machines that allow players to bet on individual horses from historical races. That makes it different from other historical horse racing slots in other U.S. casinos. If you don't want to take your chances on the slots, you can try the other games the casino offers, such as the grownup arcade, which includes advanced games of beer pong, billiards, a huge game of Pac-Man, and Pop-A-Shot. The difference between these games now is the sheer size of the games involved, no children are allowed, and you can drink beer while you play.
Best Off-the-Strip Casino for Slots: Red Rock Resort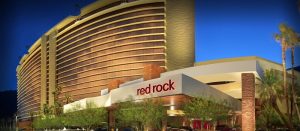 The Red Rock Resort, which sits about 2 miles from the Las Vegas Strip, has nearly as many slot machines for you to play as ARIA. You have the option of traditional slots, video slots, or video poker machines. Many people enjoy this casino because they are able to view beautiful vistas of the Las Vegas Valley instead of the neon lights of The Strip. Visitors also enjoy the huge pool and amazing spa, a large bowling alley, bingo hall, and a movie theater that makes going to the movies a VIP event.
Best Slot Play with a View: Stratosphere
The Stratosphere Casino is the tallest building in Vegas, and gamers are able to gamble amid amazing views of the Las Vegas Valley. Its 1,500 slot machines, some which are only found at the Stratosphere, are accented by the rides and attractions that make the Stratosphere more of an amusement park than most casinos in the area. Bungee jump rides and a roller coaster allow families to have fun at the hotel, as well as enjoy the gaming available in the casino. The attraction also has the highest bar in Vegas, a rooftop pool for adults, and a 1950's diner that the whole family will enjoy. Want to buy some Vegas souvenirs without leaving the hotel? No problem. The Stratosphere has a large shop perfect for buying gifts to take home to jealous family and friends.
Best Family Casino for Slots: Circus Circus
If you happen to have your family with you, there is no better place to come and play slots than Circus Circus Casino. The Adventuredrome area of the casino has five acres of kids' games, including carny games, roller coasters, a merry-go-round, an arcade, bumper cars, Skee-ball, performing acrobats, and circus-type food. Kids are also the featured guests at the pool, which has slides and splash zones.
The casino has more slots at different price ranges than any other casino in the area. Buy-ins start at a penny and move up from there. If you want to branch out on your gaming, this casino offers free lessons for blackjack, roulette, and craps each morning.
Best Casino Pool for Slots Players: Mandalay Bay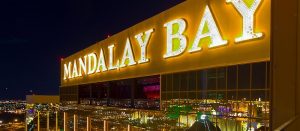 At Mandalay Bay, you could come for the slots. The casino boasts more than 135,000 square feet of gaming space and has more than 1,500 slot machines that feature limits anywhere from penny slots to $100 limit slots. These are available in a VIP gaming room. Several different varieties of slot machines are available on the gaming floor, so you won't get bored playing the same old slot game every day.
After a few hours playing the slot machines, you can relax in the best series of pools in the area. The hotel imported thousands of tons of sand, and built a giant wave pool, with a pool bar, pools to just dip your feet in while you are tanning, hot tubs to relax and drain away your cares, and a lazy river. The hotel also features world-class dining and table games play. What's not to like?
Best Spa After the Slots: The Venetian
So, you've played all the slots – all day. You're flush with victory, and, now, you need to relax and wind down before you check out the nightlife. No problem. The Venetian offers as much floor space at its spa as it does on the gaming floor. The Canyon Ranch Spa, which connects two different areas of the casino complex, is unlike any other spa in Las Vegas. It offers up to 150 different kinds of spa services. For example, if you want a new haircut or you want to get your nails done, this is the spot. Many different kinds of massages are also offered here, as is a steam room, a Nordic sauna, fitness classes, yoga, and Pilates. Men – you're not left out. In fact, you have your own area, with weights, a rock-climbing wall, and a barbershop tailored for male clientele. Two restaurants featuring healthy eating options, as well as vegan and vegetarian dishes, are also located on-site.
Las Vegas casinos offer huge opportunities for you to perfect your slots game. No matter what kind of slots you like to play, or how much money you want to spend, there is a casino for you to pull the lever, spin the wheel, and take your chances on the one-armed bandits.
Disclaimer: All images are copyright to their respective owners and are used by USA Online Casino for informational purposes only.