If your two great passions in life are skiing and gambling, what could be better than spending your vacation at one of the best ski resorts in the world with a casino attached? Enjoying a mountain retreat is a great way to whet your appetite for thrills and adventure, with the opportunity to hit the slopes during the day and then to spend the nights at the gaming table. The good news is that there are some really amazing ski resorts around the world where you can have equal pleasure on the piste and on the gaming floor. Here are some of the top options that you might want to consider this year.

Casino Barriere Megeve, French Alps
Google Rating: 3.9/5 (50 Reviews)
Location: 199 Rue Charles Feige, Megève, France
Casino Schedule: Every day from 10:30 am to 03:00 am
In the very heart of the French Alps, Megeve is a lively, busy resort that boasts a stunning backdrop of awe-inspiring mountains and beautiful old-fashioned architecture. This high-end resort draws in wealthy punters who come here regularly to experience fantastic skiing together with the fabulous casino that is attached to it. It offers more than 60 slots and plenty of variety in gaming tables, including all the favorites – blackjack, roulette, and poker. Whether you prefer to spend your days on the slopes or watch the snow from the comfort of the bar, the casino is a true alpine gem for anyone who can't resist a wager.
Atlantis Ski Resort & Casino, Reno
Google Rating: 4.3/5 (3,197 Reviews)
Location: 3800 S Virginia St, Reno, NV 89502
Casino Schedule: Open 24 hours Every Day
There are no less than 18 different ski resorts within an hour's drive of Reno, so whatever your skiing preferences are, you're sure to find something to suit your tastes. Summits in the Lake Tahoe area range up to 10,100 feet, and with the extra-long season and huge amounts of snow, it's no wonder it's America's most popular resort for skiers, as well as sledders, snowshoers, ice skaters, and dog sledders. The Atlantis also boasts an impressive nightlife, and one of the top evening activities is the casino, which boasts all the hottest table games, such as keno, poker, and blackjack, as well as progressive slot jackpots.
Casino Davos, Swiss Alps
Google Rating: 3.9/5 (33 Reviews)
Location: Promenade 63, 7270 Davos Platz, Switzerland
Casino Schedule: Every Day from 2:00 pm to 2:00 am 
Located high in the Swiss Alps, Davos is one of the top resorts for winter sports and impressive leisure facilities. Not only does Davos offer excellent skiing, it also offers high-quality entertainment in the sophisticated Davos casino, which offers poker, blackjack, and roulette together with a host of fun slot machines to entertain skiers after a day on the snow.
Montbleu, Lake Tahoe
Google Rating: 3.9/5 (1535 Reviews)
Location: 55 Hwy 50, PO Box 5800, Stateline, NV 89449, USA
Casino Schedule: Open 24 hours Every Day
If you're heading to Lake Tahoe, there's plenty to enjoy in this Nevada resort. A little bit of Las Vegas in the mountains, you can snowboard or ski your way through the day before hitting the casino tables each night. Boasting gorgeous panoramic views of the Sierra Nevada Mountains, this resort offers cutting-edge slots with high payouts and Ticket In, Ticket Out technology. There are also plenty of table games to enjoy, including three-card poker, roulette, craps, and blackjack together with the weekend Party Pit, which brings even more of the Las Vegas touch to the mountainside.
Casino Chamonix-Mont-Blanc, Mont Blanc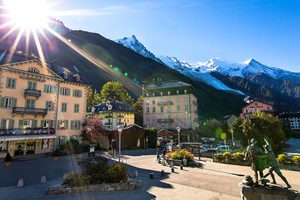 Google Rating: 3.6/5 (51 Reviews)
Location: 12 Place Saussure, 74400 Chamonix-Mont-Blanc, France
Casino Schedule: Every day from 02:00 pm to 03:00 am
The resort town of Chamonix is right at the foot of Mont Blanc, the Alps' highest summit, and close to France's mountain border with Italy and Switzerland. A popular resort with skiers and snow lovers since the railway arrived in 1860, its panoramic views and impressive casino make this area popular with those who have other things on their mind than the slopes. Housed in a stunning building from the 1900s, the gorgeous Casino Barriere is full to bursting with card tables and slots and is a great way to spend some time when it's just too cold outside. Whether you're a high roller or just want to limit your risk, there'll be games here to suit your taste, with high-value tables sitting alongside slots that accept as little as 1 cent a spin.
Casino St Moritz, Switzerland
Google Rating: 4/5 (26 Reviews)
Location: Via Medzi 29, 7500 St. Moritz, Switzerland
Casino Schedule: Every day from 08:00 pm to 03:00 am
Possibly one of the most prestigious and luxurious ski resorts in the world is St. Moritz, and the Casino St. Moritz is no less impressive. Located in the west wing of the Kempinski Grand Hotel des Bains, this venue offers quality entertainment with a sophisticated and dignified atmosphere. Truly living up to its name, this resort really is grand, with a Michelin-starred restaurant, a formal dress code, and outstanding customer service. When it comes to the gaming floor, the casino may not be the biggest at just 700 square meters, however, it does offer seven tables – four American roulette, one three-card poker and two blackjack — as well as 79 slots. Decorated in the Italian style, this exclusive venue is a visual feast for the eyes.
Casino Kitzbuehel, Austria
Google Rating: 4.3/5 (101 Reviews)
Location: Hinterstadt 24, 6370 Kitzbühel, Austria
Casino Schedules: Every day from 10:30 am to 03:00 am
Austria's most elegant casino is in Kitzbuhel, a fashionable and popular ski resort. Located in the 13th-century Hotel Goldener Grief, this old-fashioned resort is attractive and historic inside for a more intimate feeling with a fun atmosphere that aims to avoid the intimidating ambiance that pervades many of the top casinos. Around half the clientele are locals, with German, Dutch, Swiss, and British tourists also coming here to enjoy the many attractions on offer.
Casino Seefeld, Austria
Google Rating: 4.2/5 (159 Reviews)
Location: Bahnhofstraße 124, 6100 Seefeld in Tirol, Austria
Casino Schedules: Every day from 02:00 pm to 03:00 am
Also located high in the mountains, the Casino Seefeld is in the resort of the same name in the Austrian Alps, which is best known for its specialist casino and ski packages. Special prices are offered, including daily ski passes, ski lifts, casino visits, welcome chips, and drinks, as well as spa facilities and other attractions. The casino itself is all on a single floor, but it is divided into a number of large zones. The primary gaming hall, which boasts a stylish bar area, is where you will find the live table games. There are glass walls to separate the poker area to the side of the main hall, and slots can be found on the opposite side. Elegant chandeliers, attractive wood panels, and a red carpet all work together to create an elegant and impressive look.
Spielbank Garmisch-Partenkirchen, Germany
Google Rating: 4.2/5 (52 Reviews)
Location: Am Kurpark 10, 82467 Garmisch-Partenkirchen, Germany
Casino Schedules: Every day from 12:00 pm to 02:00 am
Home to the highest mountain in Germany, Garmisch-Partenkirchen is Germany's most popular area with skiers despite its dated lift system. It is especially popular with those who like to ski off-piste. It is also home to the only high-altitude casino in Germany. There is a fee charged for entry here and a formal dress code, however, the décor isn't over the top. It is a larger venue than many of its rivals. It hosts 170 slots and common table games, such as roulette and blackjack, as well as less common options, such as Texas Hold'em. Slots are open from Noon until 2 a.m., live games are open from 3 p.m. until 2 a.m. and poker game tables open at 8 p.m.
Whether you prefer to spend most of your time on the slopes or the majority of your stay on the tables, you're sure to find the perfect ski resort to match your tastes. What could be better than coming in from the exhilaration of the piste to the bright lights and thrill of the roulette table? There are some gorgeous ski resorts with casinos in the world's most beautiful mountainous regions, so maybe it's time to try one on your next vacation.
Disclaimer: All images are copyright to their respective owners and are used by USA Online Casino for informational purposes only.