Part of what makes a vacation so memorable is the wonderful food you'll taste. Various countries and regions are known for their delicious dishes. From street food to gourmet meals, a city's food tells the story of its people and culture.
If you're planning on traveling, many cities around the world are a foodie's dream come true. If you're into savory delicacies, sweets, or snacks, the food scene in these cities will make you even more excited to travel.
Bangkok
Bangkok is one of the best places for great street food in Thailand and the world. This type of food is also referred to as "yarowat." There are several vendors in various parts of Bangkok, so it's easy to taste the complex flavors of the city. If you're looking for a filling breakfast on the go, you can find soymilk and bean curd, a sweet dish. Or, you can dine on poached chicken and rich for lunch. The nightlife in Bangkok is particularly appealing. After a night at a club or event you can visit a street vendor for a delicious dish like grilled satay or phad thai. Chef Van of 4Garcons in Bangkok recommends travelers try hoy tod nai mong. It's a mussel pancake that is crispy and prepared on a charcoal stove. The chef also suggests Kuay tiew soi sai nam phung. The soup dish is flavored with chicken wings and includes pork intestines and a young egg.
Tokyo
Tokyo has several Michelin-starred restaurants—more than any other city in the world. However, many people only think of sushi when it comes to Japanese cuisine. Food lover Taro Namekawa suggests that travelers try Teppen: Nakameguro for the best grilled food in Tokyo. Namekawa describes the dining experience: "They are very famous for grilling extremely fresh ingredients in front of you, with special kinds of charcoal that can grill fresh ingredients with high heat quickly to trap all the goodness of them inside." The restaurant also serves sushi, but the grilled vegetables and meats attract Japanese diners and tourists of all ages. People in Japan particularly like to visit Teppen: Nakameguro on their way home from work. The scenery near the restaurant is great, too. The eatery is near the Meguro River, which features a variety of beautiful native flowers.
Honolulu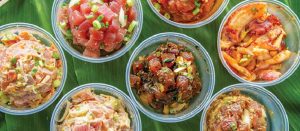 Hawaii offers a variety of cuisines. Immigrants from Latin America and Asia heavily influence the food in Honolulu. However, there are some dishes that are similar to foods from the United States mainland. You can find several types of raw fish salads called poke. These salads are just as easy to find as a burger and fries in Honolulu. Poke is often made from octopus or tuna, and prepared with flavors like ceviche and kimchi.
Honolulu is also known for its food trucks. If you travel to Haleiwa's Kamehameha Highway, you'll encounter a parking lot filled with food trucks. Giovanni's Shrimp Truck offers shrimp in a savory garlic sauce and is a favorite among tourists. You can also try Opal Thai, which makes some of the best pad thai in the US. Some even say it rivals the pad thai in Bangkok. Huli Huli chicken is another popular dish in Hawaii and is one of the best spots to visit for great food.
Durban
This South African city is known for its beautiful weather year-round. The city also has a strong Indian influence and is an ideal place to get street food that is full of flavor. The local cuisine is indicative of the Zulu culture and the white South Africans who settled there. Durban is known for delicious curries and you can find meats and vegetables that have these seasonings on virtually every street corner. Little Gujarat, on Prince Edward Street in downtown Durban, offers tasty takeaways tourists and locals enjoy. The restaurant only offers vegetarian fare and is known for its Durban bunny chow. The entrée is a half loaf of bread that is hollowed out and filled with curry. Johnny's Rotis, also known as Sunrise Chip & Ranch, offers a variety of rotis and is open 24 hours a day. Tourists also enjoy Afro's Chicken. The restaurant is located by the beach and serves Poulet to order. Vacationers can enjoy their meal while relaxing by the water.
New Orleans
It's often been said that the gas stations in Louisiana serve better food than some of the best restaurants in the country. When it comes to street food, locals often think of the Lucky Dog food cart. Ordering food from the cart is certainly an experience. It's a great way to experience the culture of New Orleans and get a taste of the food that made the city famous. Plate lunches are popular in New Orleans and often include classic dishes like red beans and rice. The dish is served with andouille sausage and a slice of heavily buttered French bread. Places like Central Grocery offer muffulettas, which are Sicilian sandwiches that are particularly filling. African, French, Spanish, and Italian cultures are all a significant part of New Orleans Cajun and Creole cuisine. A recent migration wave has also brought taqueria trucks to the city. There are also more Asians in New Orleans now, so pho noodles have become part of the food scene. Visitors looking for a unique dining experience can try Acme Oyster House's fried alligator. For a sweet treat, New Orleans School of Cooking offers decadent pralines that are made in front of customers.
Istanbul
Turkey's capitol city offers delicious Mediterranean food. Simit is perhaps the most popular street food. It's a cross between a pretzel and a bagel. Simit is baked fresh and dipped in molasses before being rolled in sesame seeds. Durum is a savory dish that is common in the city. The dish is essentially a kabob that has been turned into a wrap, so it's easy to eat on the go. You can find durum at street carts and in medium to high-end restaurants. Iahmacun, which is a Turkish adaptation of pizza, is a satisfying late-night meal with Mediterranean flavors. For a sweet treat to complete a delicious dinner, Turkish ice cream is the way to go. The decadent treat is especially delicious in pistachio.
Hong Kong
Finding street food that is memorable and delicious is no problem at all in Hong Kong. Sou gaai or "street sweeping" is even a common weekend activity. It involves traveling to different parts of the city and enjoying all the food the regions have to offer. Michelin even offers a guide to street food for Hong Kong. Hop Yik Tai offers cheong fun, which is steamed rice rolls. The rolls are soaked in soy, hoisin, and sesame sauce. If you're into exotic delicacies, Fei Jie is one of the best places to visit. The restaurant offers entrees like pig intestines and turkey kidneys. If you have a sweet tooth, you can check out Shau Kei Wan Main Street East and Kowloon City. These eateries offer sweet tofu custard (which is considered the best in the city) and a Cantonese egg waffle.
Disclaimer: All images are copyright to their respective owners and are used by USA Online Casino for informational purposes only.